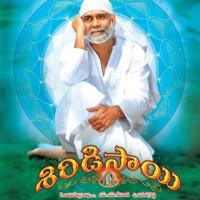 Movie: Shirdi Sai
Cast: Akkineni Nagarjuna, Srikanth, Srihari, Sarath Babu, Sai Kumar and Kamalinee Mukherjee
Director: K. Raghavendra Rao
Rating: ***
The incarnation of Nagarjuna into Shirdi Sai Baba comes as a breath of fresh air for his fans and Sai devotees alike. Far different from regular cinema with clichéd performance, run-of-the-mill storyline, director K. Raghavendra Rao's 'Shirdi Sai' takes you on a spiritual journey of self-actualization, purity and sanctity.
Unlike 'Annamayya' and 'Sri Ramadasu', Nag's 'Shirdi Sai' is interestingly narrated based on Sai's philosophies and perspective of life. Without deviating much from the known life of 'Sai Baba', the makers recreate moments to show exactly what happened in his life and how he attained enlightenment.
The story revolves around an effervescent nameless boy with no kith and kin, who transforms into loved, worshipped 'Sai Baba' with millions of devotees.
Some portion of the film is imaginatively narrated since there's no proof to Sai's life between age 14 and the day he returned to Shirdi. The director with his touch of brilliance breathes life into this mysterious part of Baba's life and shows how he could've possibly been enlightened. This part was masterly executed and there's no doubt about it.
Dialogues by Paruchuri Brothers' further add a touch of intellect and spirituality in every word uttered through the film. The lines were not written to be cheesy or mass-appealing but strictly with the intention to leave an impact in the viewers.
The film doesn't have a storyline per se but the series of anecdotes weaved out of meaningful ideologies are definitely something to look forward to. Nag's performance is not extraordinary but simple and satisfying. He crawls into the skin of the character and subtly brings forth mannerisms and imitates with perfection.
Sarath Babu, Srikanth, Sai Kumar and Kamalinee Mukherjee play their respective parts with utmost sincerity. However, Sayaji Shinde-Ali-Ananth trio turn annoying after a point of time with their slapstick style comedy.
Music by M.M Keeravani elevates the film to insurmountable heights as each and every song aptly suits the context of the film. Needless to say, voices of Keeravani, S.P Balasubramanyam and Sunitha take you on a delightful musical journey. 
At the end of the film you need to ask yourself one question – Will you go home and worship different Gods by different name or will you stand by the line "Sabka Malik Ek Hain"?
This review was originally written for IANS news wire