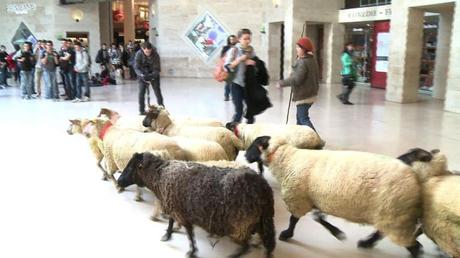 from NTD
Sheep stormed into Paris' iconic Louvre museum on Friday (March 28) as farmers protested against reforms to the common agricultural policy (CAP).
A dozen sheep ran into the museum's entrance underneath its famous glass pyramid, baffling tourists and aggravating museum staff.
The Farmers Confederation organised the protest, with members of the organisation coming from across France as they protested against reforms to the European Union's 50-year-old agricultural policy.
The French government is nearing the end of negotiations on France's implementation of reforms to the policy.
The organisers of the protest were objecting to the effects of the industrialisation of agriculture.
Spokesperson for the Farmers' Confederation Laurent Pinatel told Reuters Television they feared for farmers' jobs.
What we can see today is a desire on the part of the agricultural ministry to impose a marginalising policy which will get rid of farmers so we came here to say we don't belong to a museum and that our place is in the countryside, where we can revitalise the countryside, create jobs and develop quality produce, that's why we came here today," he said.
The confederation calls for an agricultural policy which supports jobs, produce, life on farms and the environment.