I can't believe it's almost 6 weeks ago since I wrote about the pending arrival of a brand new beauty box sampling service SheSaidBeauty. I was really impressed with the team they had on board and their promise or a community via Social Networking. You can read my thoughts here.  I've continued to be impressed with their customer service via email, Facebook and Twitter and also the varied content of their blog/Online Beauty Magazine.  So after hearing boxes should start arriving today I was practically salivating at the front door waiting for the postman.  He didn't let me down.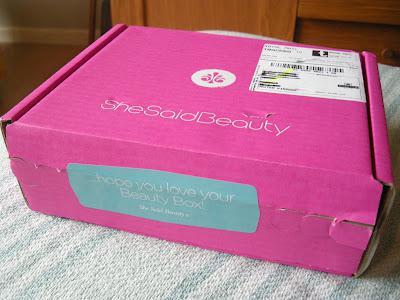 Unfortunately for any closet beauty addicts out there you are not going to be able to deny your drug of choice (beauty and cosmetics) to anyone.  No plain brown cardboard here but a vibrant fushia pink box resplendent with the SheSaidBeauty logo and, just in case someone hadn't worked out what your delivery was, a sticker announcing ".....hope you love your Beauty Box!"
After tearing open the cardboard I was delighted to see a lovely duck egg blue box with magnetic fold over lid that will coordinate perfectly with my decor.   Thank you SheSaidBeauty, you really shouldn't have. The box also has a delicate lace effect print on the corners.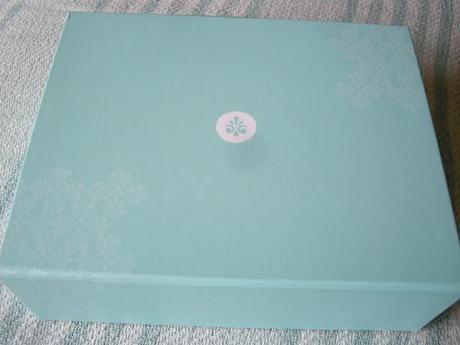 The contents were wrapped in fushia tissue paper and ribbon, secured with a sticker and nestled in a bed of natural coloured straw/paper....perfect for the compost bin!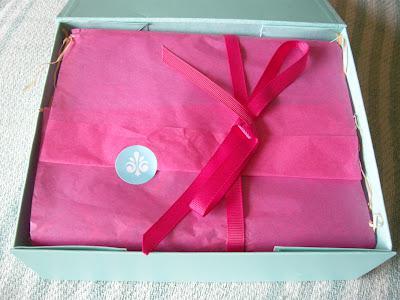 This is what I found inside: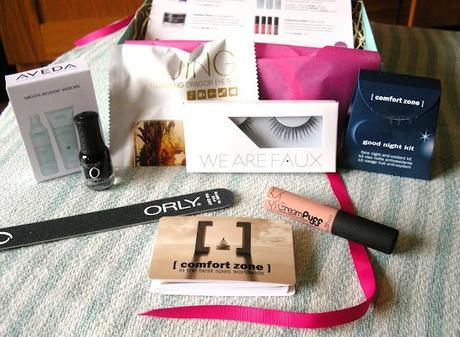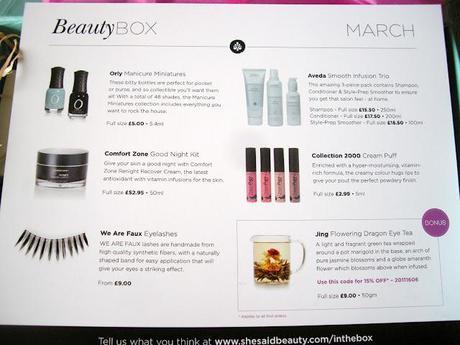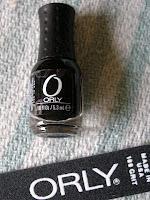 First up we have a full size 5.3ml manicure miniature nail polish from Orly.  I received Black Out, which I'm delighted with as I've been on the look out for a black polish to fuel my late onset mid-life crisis nail addiction and I already have plans for one of those reverse French manicures in nude and black. Also included is a full size Nail File.  As you can see from the card SheSaidBeauty state this is 5.4ml not the 5.3ml stated on the bottle and also that this full size is worth £5.00.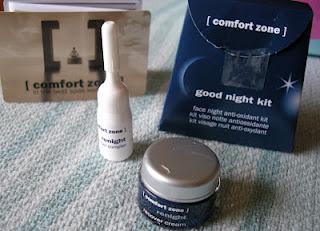 Next we have Comfort Zone Good Night Kit. Which consists of Renite Recover Cream (6ml) and Renite Recover Complex facial Integrator (4ml). I've never heard of the Comfort Zone Brand before but the enclosed Italian website address www.comfortzone.it They are a spa brand who partner with beauty salons and you can find your nearest outlet on the website. Google UK took me to a beauty salon in Tunbridge Wells, which I assume is operating under franchise as they are using the Comfort Zone name, logo and products. You can view their website here. I'm a little confused by the description on the card which states the full size 50ml product is £52.95 because the website lists the 50ml cream at £42.95 and the 25ml Vitamin Integrator at £28.95.  Anyway it looks like a great product and I'm excited to try it.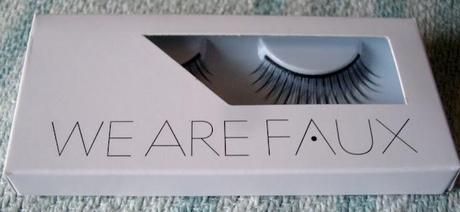 Whilst I remain a false lash virgin, yes really!, and I'm still waiting for an opportunity to try out the lashes from my Carmine box, I was still really pleased to receive these.  We Are Faux are a USA brand created by LA based Make-up-Artist Ana Cruzalegu.  The lashes are handmade and I received the set in Vixen. These retail at £9.00 and more information is available on the website.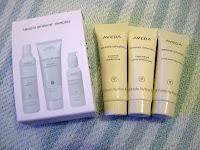 So far so good, nails, face, lashes and next up hair products from Aveda.  The Smooth Infusion Trio contains Shampoo, Condition and Style-Prep Smoother which I've used before and paid £2.00 for this very set. You can also select free samples with any order at www.aveda.co.uk. Each tube is 10ml and Full size products are available for £15.00, £17.50 and £18.50 respectively.  

The final non-bonus product is Collection 2000 Cream Puff. It's a lip cream in a tube with a lip gloss style applicator and I've been keen to dry this after reading good reviews online.  I received Powder Puff and whilst not my color (it's nude and nude makes me look like a corpse!) I'm still happy with this full size product worth £2.99.  The full range is available from Boots.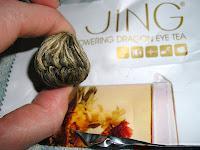 Finally a bonus product - Jing Flowering Dragon Eye Team.  I was intrigued by the hard spherical lump I felt inside the package so opened it up and found this:
The directions advised me to place this 'flowering tea bulb' into a glass tea pot, add freshly boiled water and infuse until the leaves opened.  Not having a tea pot, let alone a glass one, I grabbed a glass ramekin and poured over the boiling water.  After about 5 minutes the bulb had opened and here is the result.  Isn't it pretty!!?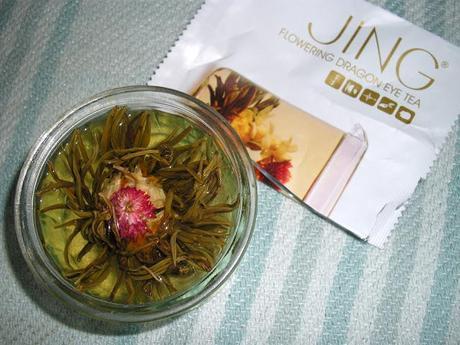 To be honest I was overly impressed with the tea as it's very delicate and like a strong flavor (Hey I'm from the North of England - proper tea means you can stand your spoon up in it!).  However, I think it'd be fabulous for a dinner party or when entertaining friends. The pack stated this was 6.5g and the full size is 50g for £9.00 (not sure how they work that one out as 8 x 6.5g works out at 52g? I know, I think too much...) There's a 15% off first order code included.
Overall I'm really happy with my first SheSaidBeauty box, I love the contents but I'm particularly impressed by the social networking concept behind the brand and keep hitting refresh on their website as they're updating!   The card advises 'Tell us what you think at www.shesaidbeauty.com/in the box' so I'm keen to how they are going to play this one.
Bloggers and website owners may be interested to know the there is also an affiliate programme.  You can read all about it here.
SheSaidBeauty is £9 per month plus £2.95 P&P by Royal Mail Tracked.  There is currently a 25% off your first box discount but you need to be quick.  You can sign up here.
Did you receive this box? What did you think?
Laters Peeps!
Love Lainey
xxx