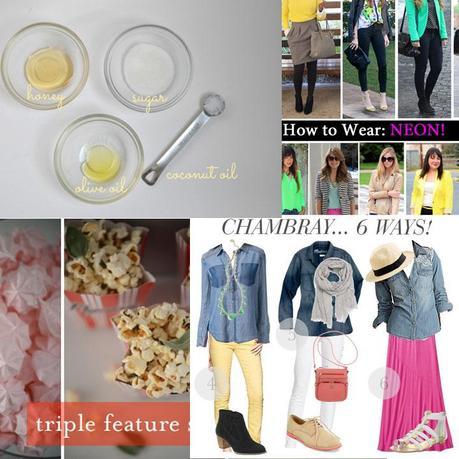 1/2/3/4
I hope everyone had a good (short) week!!
Wondering how to get the perfect layered sleeve look? (i know i am). Audrey shows you how!
I'm obsessed with lip scrubs, but they can be hard on the wallet! Fortunately, they're pretty easy to make at home.
I have a slight obsession with chambray, and Jackie has styled it in 6 awesome ways! I can't wait to recreate all of these. Guess I better buy more chambray....
I don't know about other fashion bloggers, but I always am thinking about branching out and including other topics here on MC+M. Luckily, Nikki has a great tutorial for food posts! And look at that cake!!
It's no secret that I love the Everygirl (I have serious girl crushes on Alaina and Danielle). They've finally opened up about how they created the best site ever! So inspiring!
The Oscars are on Sunday (who do you think should win?), and Emily has whipped up three tasty treats to share with your guests.
The neon trend is still going strong, and Alyson has a great tutorial on how to wear it!