Yet one step closer to try every restaurant in the Fort, ever! Well, at least among those that aren't horrendously expensive. Haha.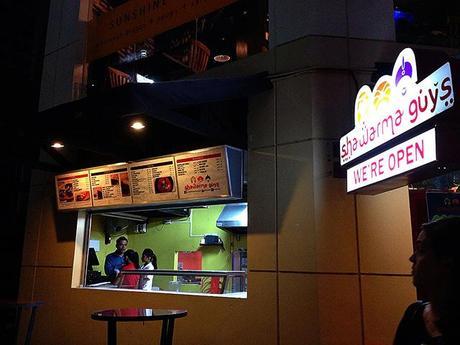 We had been seeing this store for a long time before we got around to trying it out. Very conveniently located in the Fort Strip, we had to eventually give it a shot, we enjoyed the cuisine after all.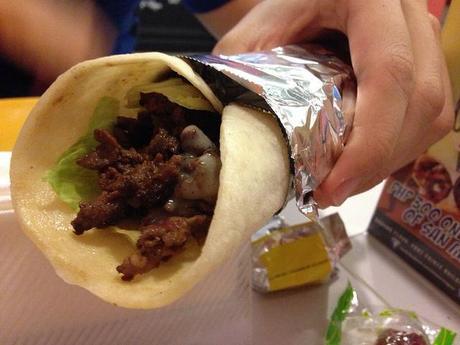 Lamb Shawarma, P139.00
The Lamb Shawarma was quite sizable so it did not seem to expensive. It did not, however, have the potent lamby taste I was looking for, but the texture was good enough. Not bad with the sauce.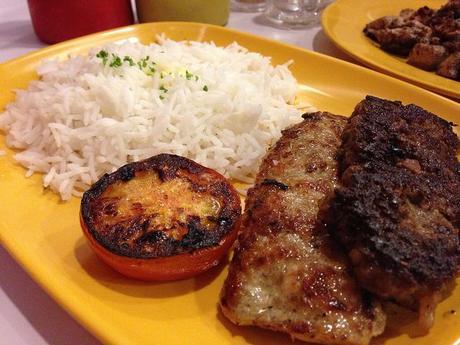 Beef and Chicken Combo Kebab, P179.00
Hmm.. a pretty straightforward meal, so I can't say much. Basically, it is not as good as Mister Kebab, but it is better than Kebabers' version. Haha. As usual, you'll need to sauce up the dish pretty good to get the most out of it.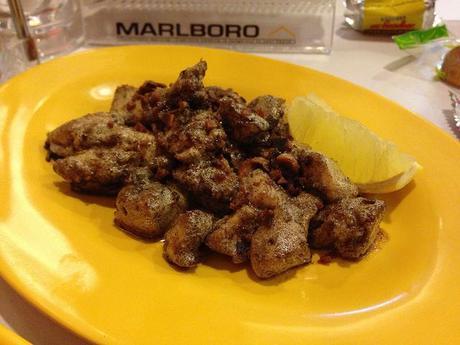 Garlic Ox Brain, P99.00
Braaains. Again, I must compare to Mister Kebab, and this one is a lot more like Salpicao, with larger pieces than I am used to at the other restaurant. I do not prefer this version because it is a lot more real, and I felt the actual brainy texture a bit more. I like ox brain, but I guess I don't
love
 it that much. Haha. Am I making sense?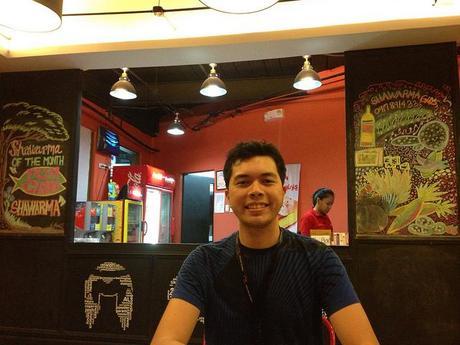 A very festive interior, and it wasn't too populated. Man, my hair was short back then. Another clue into how far back my writing backlog is!
Menu:
Main Menu
Verdict:
Lamb Shawarma: Okay
Beef and Chicken Combo Kebab: Okay
Garlic Ox Brain: Okay
We haven't gone back since, and perhaps we will not, unless we get a real strong kebab craving. I think I like this place more than Kebabers.
Love Shawarma Guys? Hate it? Let me know by commenting below, or just
tweet
me!

SHAWARMA GUYS
G/F, Fort Pointe Building,
Fort Strip, 7th Ave. cor. 26th St.,
Bonifacio Global City
(02) 966 8838
Operating Hours: 
11:00 am - 2:00 pm, 5:00 pm - 4:00 am
Facebook: Shawarma GuysOther Restaurants in The Fort:
100 Miles Cafe: Our Own Private Hangout
Brasas: Latino Heat
Chuck's Deli: Buffy the Sandwich Slayer
Good Earth Roasts (GER)
Gyu-Kaku: The Time is Ripe to Grill Some Tripe
Hungry Hound Pub + Kitchen & Niner Ichi Nana
IHOP: The Latest Pancake Craze
Jollibee: Ultimate Burger Steak and Flip Float
Kasbah: A Moroccan Lunch
Kebabers: Cheese Kebabs
KFC: Breakfast with the Colonel
Órale!: The Best Quesadillas
Pancake House: Cookie Butter Pancakes Surprise
The Best Pasta of Pasto
SM Aura Premier: Pepper Lunch Express under the Sky Park
Racks: My Favourite Ribs
Red Garlic Bistro: Trotting the Globe, Clove by Clove
S&R: My Favourite Pizza
Saboten: Enjoyin' Some Loin
Saint's Alp: Taiwanese Chicken Goodness
Sbarro: Rolling in the Deep Dish
Seattle's Best: Sea Salt and Salad
Stacy's: A Slew of Snacks
Stella Wood Fired Bistro: Nothing Less Than Stellar
Sunshine Kitchen: Second Dawn
Tapeo: Spanish Surprise at the Fort Strip
The Cheese Steak Shop: Philly Cheese Steaks in the Phillyppines
Toast Box: Going Goreng
Tokyo Tokyo: Burgers and Chopsticks
To
nchaya Japanese Kitchen & Bar: Okonomiyummy
URBN: Dining with Style
Uncle Cheffy: A Piece 'a Panizza
Wildflour's Cronut: The Doughnut and Croissant's Love Child
Wrong Ramen: The Weirder, The Better
Yabu: Bed of Rosus
Let Me See That Zong
View Larger Map