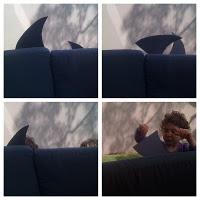 It's no secret that the one sight no one wants to see is a shark fin cruising past... unless of course they're cardboard ones and they're a sign that you've got a few more minutes to yourself!
I made 2 fins for Mimi's recent Mermaid-Pirate party, by tracing curves from two different sized plates (big plate makes the upper curve / small plate makes the inner curve), cutting them out of black corrugated cardboard, and then poking a kebab skewer half way into them.  My two daughters had a great time before the party scaring each other and anyone else who happened to sail past.
They took less than ten minutes to make and cost nothing - how perfect is that!?
Yah-har me mateys; for more 'dangerous' craft projects your little ones might like - try the FREE downloadable Daliesque landscape craft, or the pirate party craft ebook.