by Emily Atkin / Climate Progress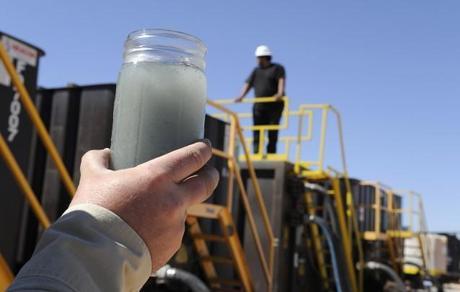 A jar holding waste water from hydraulic fracturing is held up to the light at a recycling site in Midland, Texas, Sept. 24, 2013. With fresh water not as plentiful companies have been looking for ways to recycle their waste. CREDIT: AP Photo/Pat Sullivan
There have been more than 30 small earthquakes in and around the north Texas town of Azle in the last three months. The residents there think it's because of fracking.
"They haven't had earthquakes around here for 100 years, and to have this happen now — 32 within just the last couple of months — is crazy," Darla Hobbs, an Azle resident, told NBC news. "And it's not our fault for living here. It's the gas well industry for drilling, and fracking, and the injection wells."
Their claims are not unfounded. Researchers at Southern Methodist University have recently linked a string of 2009 and 2010 earthquakes in Texas to the injection of fracking wastewater into the ground. The U.S. Geological Survey says that the wastewater injection process — which lets fracking companies dispose of wastewater by storing it wells underground — can help cause of earthquakes by reducing underground friction along seismic faults. In early 2013, fracking wastewater disposal was also linked to the 109 earthquakes that shook Youngstown, Ohio in 2011 — an area that hadn't ever experienced an earthquake before an injection well came online in December 2010.
Despite the research, the use of injection wells by fracking companies is increasing. So a busload of about 50 Azle residents traveled three hours to a Texas Railroad Commission meeting in Austin on Tuesday, urging commissioners to halt the use of the wells. The three-member commission regulates the oil and gas industry in Texas.
"We're bringing in waste and injecting it down there below our water system," Azle resident William Hoffman told CBS news. "And with it shaking like this, it's just a matter of time before it gets in our water system."
Though members of the commission are supposed to be elected, Railroad Commission Chairman Barry Smitherman was appointed to the commission in 2011 by Governor Rick Perry — a longstanding proponent of fracking who has claimed that Americans are being "hoodwinked" into thinking it can cause groundwater pollution. Perry's assertion conflicts with reports of polluted groundwater in the fracking homelands of Wyoming and Pennsylvania, and a report from the EPA that each said fracking likely pollutes water.
So following the meeting led by Smitherman, the residents predictably did not get what they came for. After hearing their reports of what they call "frackquakes," strong enough to rattle houses and move furniture, Smitherman refused to acknowledge to local reporters that the quakes were linked to any part of the fracking process.
"It's not linked to fracking," he told reporters after the meeting. "If we find a link then we need to take a hard look at all these injection wells in this area. Reexamine them … Perhaps there something that we're not aware of underground."
Smitherman said the commission would hire a seismologist to more precisely pinpoint the location of the quakes — a process he said will probably take a couple of months. The hiring of the seismologist would take another couple of weeks, he said.
A Google map of all the earthquakes pinpointed by the U.S. Geological Survey since November, 2013 can be found here.