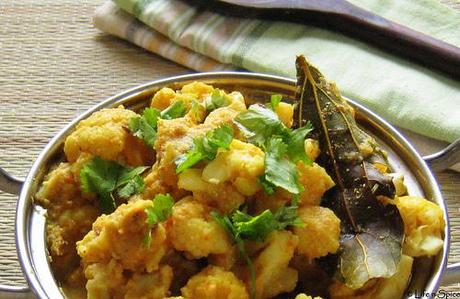 A Kurma is a beautiful, spicy and rich way to enjoy fresh vegetables. This Indian lightly cream based or coconut based gravy can be spicy or mild and is sometimes made rich with the addition of poppy seeds and/or cashew nuts. Now that Rich =
Shahi

Personally I do not like the addition of cashew nuts to my everyday meals but then there are those special days which require a special concession and so this came up. This can be served with Parathas or Naan.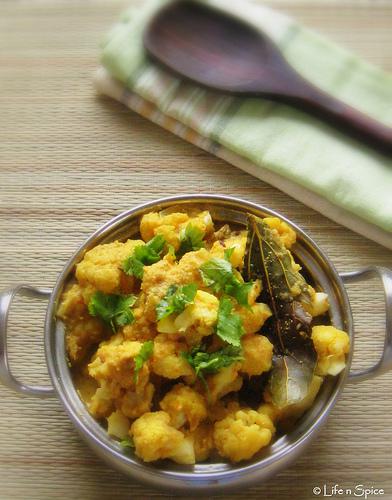 Ingredients:
2 cups Cauliflower florets
1/2 cup tomato paste
1 big onion chopped finely
1 tsp ginger garlic paste
1 tsp chilli powder
a pinch of turmeric powder
1 tablespoon Oil/butter
1" cinnamon piece
2 cloves
1 bay leaf
Few chopped coriander leaves for garnish
Salt to taste
To grind to a paste: (Grind these to a paste adding little water)
10 blanched almonds
10-15 cashewnuts
1 tsp poppy seeds
Recipe:
Cook cauliflower florets in a pan/or microwave for 15 mins. See that they don't get too soft.
Heat Oil/butter in a pan, add garam masala spices (cinnamon, cloves, bayleaf) , ginger garlic paste and onion. Saute till onion turns golden brown.
Now add tomato paste, chilli powder, turmeric powder and salt to taste. Keep stirring on a low-medium flame till you see oil leaving the mixture.
Add the ground paste, cooked vegetables and water as required. Adjust the salt and spiciness.
Cook till you get the desired consistency of gravy. Garnish with chopped coriander leaves and serve hot with Indian bread/Roti of your choice.
Serves: 3
Time Required: 40 mins
Don't miss a post. Subscribe to Life n Spice by email!