Perhaps one of the reasons Minnesota is surpassing much of the nation in home price gains is because we also surpass much of the nation in mortgage performance. Fewer than 4% of our mortgages are more than 90 days delinquent, according to the map below from CoreLogic. This in turn relieves downward pressure on home prices.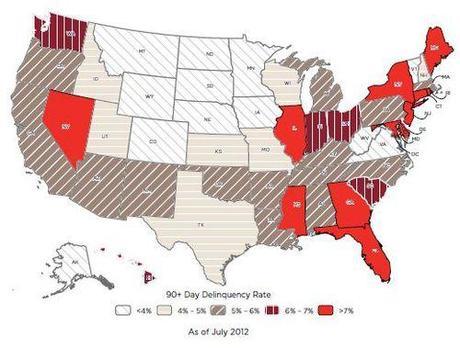 Shadow inventory, homes that are in some stage of foreclosure but not yet on the market, has been a looming fear for many, casting a gloom of uncertainty over real estate price gains and signs of recovery.
The chart below was presented at our company's annual market update last week. It shows how shadow inventory levels have been slowly but steadily decliing.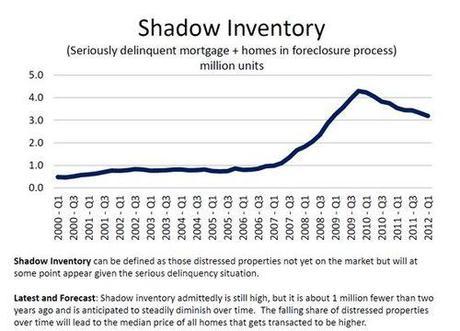 This data goes through the first quarter 2012, and CoreLogic reported that 2nd quarter shadow inventory continued to decline, down 10.2% compared to last year. Freddie Mac reported that shadow inventory is down 35% from its peak.
Decline in shadow inventory is a positive sign that prices will continue to stabilize. What is causing the  chage? According to Jenna Thuening, another RE/MAX Results agent who handles my short sales, it is due to a number of factors...
The National Mortgage Settlement cleared up some of the legal uncertainty hanging over banks
Banks are finally selling off distressed properties
Banks are utilizing alternatives besides repossession more often
Servicers are getting better at modifying troubled home loans
Another factor which may be contributing to the decline is rising prices, which makes selling or refinancing more feasible. Some feel that only a small percentage of those homes currently in the foreclosure process and delinquent mortgages not yet in foreclosure will ever make it to a Sheriff's Sale. Most may be modified, brought current or paid off long before the foreclosure takes place.
Sharlene Hensrud, RE/MAX Results - Email - Minneapolis - St. Paul Real Estate Market