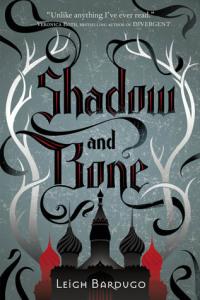 What's it all about?:
The Shadow Fold, a swathe of impenetrable darkness, crawling with monsters that feast on human flesh, is slowly destroying the once-great nation of Ravka.
Alina, a pale, lonely orphan, discovers a unique power that thrusts her into the lavish world of the kingdom's magical elite—the Grisha. Could she be the key to unravelling the dark fabric of the Shadow Fold and setting Ravka free?
The Darkling, a creature of seductive charm and terrifying power, leader of the Grisha. If Alina is to fulfill her destiny, she must discover how to unlock her gift and face up to her dangerous attraction to him.
But what of Mal, Alina's childhood best friend? As Alina contemplates her dazzling new future, why can't she ever quite forget him?
Glorious. Epic. Irresistible. Romance.
What did I think?:
The Grisha trilogy by Leigh Bardugo has been on my radar to read for quite a while ever since I gave this book as a gift to my sister and fellow blogger Chrissi Reads. I was very happy when she read it and not only enjoyed it but raved about it, so much that she has now completed the trilogy of books – in probably the quickest time I have seen her complete a series. Therefore it was obvious to both of us that it would make the June 2014 Chrissi Cupboard list, and I can honestly confirm that her love for this book is entirely justified! The story follows an orphan called Alina Starkov who grows up alongside her best friend Mal in the kingdom of Ravka, based on our modern Russia. Ravka can be a bit of a scary place, one place in particular known as The Shadow Folds, full of darkness and housing frightening flesh-eating creatures called volcra, and unfortunately not many of the adventurers who travel through its murky depths live to tell the tale. Alina ends up employed as a mapmaker for the First Army regiment along with Mal who works as tracker, and during their first perilous mission across The Shadow Folds, we learn a bit more about the groups of people in this strange world. We have the First Army and the peasants who scrape by (the so-called "normals" in this novel), then we have the elite living under the King of Ravka and finally the mysterious and enigmatic Darkling who works for the King but is a bit of a law unto himself. He has his own private army of Grishas split up into the categories of Corporalki, Etherealki and Materialki, each of which has a specific power or gift and is identified by a color to denote their order.
So, back to the mission and during an encounter with the terrifying volcra, we discover that Alina has a power of her own which she had not known to up to this point. She can harness the powers of sunlight which manages to drive away the volcra and makes her incredibly attractive to people who want to traverse The Shadow Folds and instant Grisha material of course. This is especially true for The Darkling, who has been attempting to seize control of these lands in the name of the King for a long while. He seizes the opportunity to offer Alina a home in the palace in Ravka, and means by which she can train and learn to use her power. But who is The Darkling really? Why is Alina of so much interest to him? Also, what about Alina's childhood friend Mal? Now Alina is a Grisha and lives a life of luxury at the palace has the divide between them got too large to be repaired? Finally, can a world that has been ravaged by war and the perils of magic really have a chance of peace?
This is a fantastic debut novel for any author to write, but there's something really special about the beginning of this series. We have a wonderful dystopian world built up with so much imagination and passion and I was held spellbound by each new element that appeared. I loved all the characters that the author has created but I have to admit I'm holding a bit of a soft spot for The Darkling as I don't think I've read a character before that I've been so intrigued by. The twists and the turns in this plot just kept on coming and I was constantly on the edge of my seat, awaiting the next "gasp out loud" moment that I knew was imminent! Action-packed and exciting, one thing you could never call this book is tedious or boring, and now I'm just picking the right spot in my reading schedule to fit in the second novel – Siege And Storm. I know it has to be soon, I just can't wait that long to see how the story will continue and knowing Chrissi has given the second book five stars also makes it a pretty good bet that I'm going to love it.
Would I recommend it?:
But of course!
Star rating (out of 5):