Jason left a comment recently and asked about our shade support hoops. I have also had a few emails on this topic.
For larger views of the photos please click on them!
We use agricultural water pipe. This is available in many sizes and strengths (eg. high or low pressure). It should be available in hardware stores, it is out here in the country.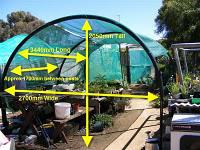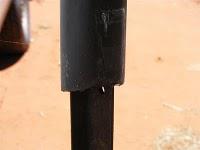 For our larger shades we have used 2" black low pressure pipe (no stripes) this one fits very well over star pickets (droppers) that are hammered into the ground as far as possible (we have rock layers under our soil).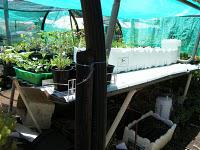 When we first tried these arches we purchased some 1 1/2 " green striped hose that needed to be wired on to star pickets. This meant it was not easy to remove the hemmed shade cloth off the hoops at the change of season.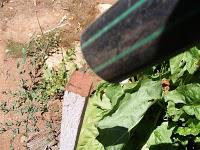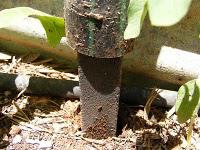 For the arches over the beds I found that this 1 1/2" pipe fitted well over a common tomato stake. It will also fit over recycled plastic stakes which by the way will last longer in soil (termites can't eat them) than the wooden ones.
It would be best to:
find out what is available in your area
choose what you will use to anchor the hoops in place
take these to the supplier/shop and make sure the hose/pipe will fit before you buy.
These photos give an idea of the sizes the hoops can cover.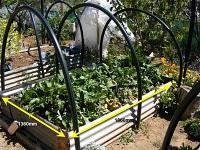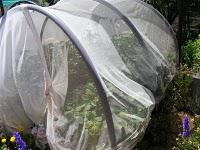 Bed2 with size and a net curtain cover over.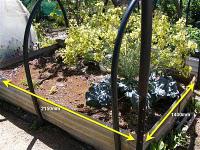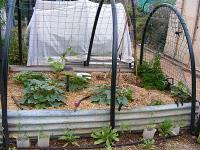 Bed 3 with size and mesh trellis over.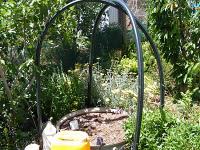 Tank Bed b at 880mm is the smallest area we have to cover.
Some people have trouble buying the piping in small amounts. Here are a couple of ideas other people have sent to me...photos used with permission, thank you. Some of their hints are included
I may have edited the content slightly
.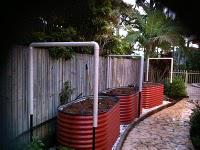 This one from JK in Queensland using PVC tubing over raised tank beds with 50% white shade cloth over green leafy veg the tubing is fitted over star pickets again.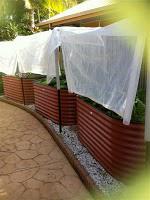 "Note that I did use star droppers in these. They are down 600mm and the ground is mostly sand.

The shade cloth I used is white and 50%. It is almost too light for the sun here (QLD) when the plants are young (seedlings) but the front part is not tied down and I often "fold" it on the top section to double the layer when the sun is overhead after about 11am.
"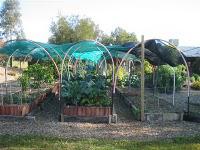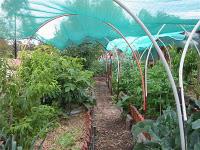 These photos are from Gringo (on ALS) in Central Victoria
using conduit attached to star pickets.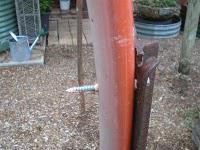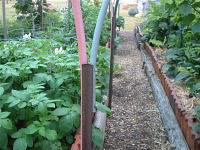 "I've found that the best material for shade hoops is 30mm recycled conduit which I purchased from a second hand junkyard. You could use up to 50mm dia.however the larger the diameter the less flexible the conduit causing it to break.
I line up two opposite pieces against the one star picket, drill a hole thru the conduit that lines up with the holes in the star picket, and insert a 70mm. galvanised roofing screw, which has enough tension to hold the lot together.

Shade cloth covering varies in light intensity, as I've scrounged bits and pieces from all over the place, however interestingly, brassicas haven't done well under cover, they grew very leggy and consequently didn't produce very good heads.
"
Others from the net: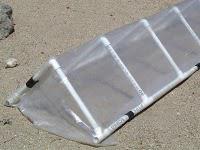 This small frame again constructed from PVC tubing with joints, seen here with plastic over for a cloche (From Bountea newsletter
details here
)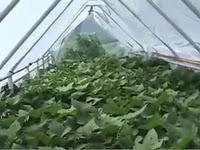 This is similar but is made to fit over a bed with extra height for plant growth. From the Peak Moment video "It's the Compost! Creating Abundance" (
See it Here
) again covered with plastic for added warmth.
Either of these designs could be used with shadecloth but if you are growing fruiting plants that require insect pollination you would need to allow an entry point for the pollinators or remove the covers at flowering time.
More info on these posts:
Wicking Bed Shade
Sewing Shade Cloth
A Shady Request
Hot House Conversion
More Shade
Poly Shade Structure
And from Doc's Blog:
More Shady Deals
More Shady Requests