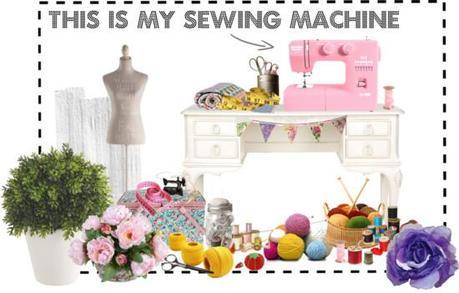 I have been asked which sewing machine I use quite a few times recently, so I've decided to do a review on it. I was bought my beautiful machine as a   gift last summer. The model I have is the JL110SE from John Lewis. I have it in a pastel pink, which is unfortunately no longer available. However, I have had a look at their website and there are a few new colour ways available including in dusky purple, coral, and plain white. 
The machine is approx. 38 x 28 x 15 (cm) and weighs 6kg. It has 14 stitch options, 4 step automatic buttonhole feature, darning plate, free arm and a back light. It also comes with a soft white cover to keep the dust away when your not using it. The machine is really easy to install with just the foot press wire that needs to be attached to the main body. The machine is suitable for all types of sewers, from beginners to the more advanced. I have used it on all sorts of projects from sewing t-shirts to making invitations and it's always worked perfectly. This machine was priced at £99 in 2012, and you can buy the updated model for the same price now. I think this is a reasonable price for the machine, and your sure to get lots of use out of it. There is also a mini version available for £49, but in my opinion I would pay the extra pennies to upgrade to a full size as it will make your sewing experience a lot easier. 
I would highly recommend this machine to anyone with an interest in sewing. Even when your not using it, it looks pretty in pink sitting on the side.