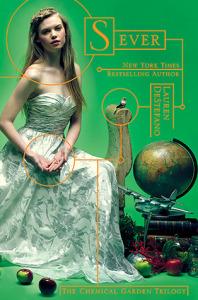 What's it all about?:
Time is running out for Rhine in this conclusion to the New York Times bestselling Chemical Garden Trilogy.
With the clock ticking until the virus takes its toll, Rhine is desperate for answers. After enduring Vaughn's worst, Rhine finds an unlikely ally in his brother, an eccentric inventor named Reed. She takes refuge in his dilapidated house, though the people she left behind refuse to stay in the past. While Gabriel haunts Rhine's memories, Cecily is determined to be at Rhine's side, even if Linden's feelings are still caught between them.
Meanwhile, Rowan's growing involvement in an underground resistance compels Rhine to reach him before he does something that cannot be undone. But what she discovers along the way has alarming implications for her future—and about the past her parents never had the chance to explain.
In this breathtaking conclusion to Lauren DeStefano's Chemical Garden trilogy, everything Rhine knows to be true will be irrevocably shattered.
What did I think?:
I was recommended the Chemical Gardens trilogy by my sister and fellow blogger Chrissi Reads and I believe it's one of her favorite YA dystopian series. After finishing the final book in the trilogy, Sever, I can definitely see why. If you're a regular visitor to my blog you know how I dread reviewing second and third books in a series as I'm very wary of giving away spoilers but I'll do my best to be as vague as possible. I love the world Lauren DeStefano has created in these novels and her characterisation was really on point with fantastic fictional people that you could really see growing and developing over the course of the series.
The Chemical Gardens trilogy is based in a future, dystopian society where a virus with no known cure wipes out the population – women at twenty years old and men and twenty-five. As a result, many girls are forced into marriage at a very young age and encouraged to reproduce as quickly as possible to ensure a future generation while scientists (and the obvious rogue elements that pop up) desperately work to try and find a cure. In Sever, our main character Rhine has escaped the clutches of her villainous father in law Vaughn and is living with Vaughn's brother, the noble Reed while she tries to hunt for her brother, Rowan and the man she originally escaped with, Gabriel who she developed strong and conflicting feelings for. In this final novel, Rhine finds out a lot more about herself, her family history and about her adversary, Vaughn than she ever could have imagined. However, it is crucial that she treads carefully while seeking her wayward, rebellious brother as Vaughn is determined to imprison her once more for what he believes is the greater good.
The first book in this trilogy, Wither was excellent and I thoroughly enjoyed it. The second, Fever was a great addition to the series but I found myself slightly less captivated by it although it was still a good, solid read that I would highly recommend. I approached Sever with slight trepidation wondering if I would get answers to the many questions I had and curious as to how the author was going to wrap it all up. I needn't have worried as once again the brilliance of Lauren DeStefano's writing and fascinating plot shone through. I love that this book isn't all about the romance – a young adult book heavy on romance gives me a bit of the ick factor so it was refreshing that Rhine could stand on her own as a strong young woman who didn't really need a love interest to tell a compelling story. There isn't as much action in this series as your average dystopian adventure story but to be perfectly honest, it really didn't need it. The characters and world they live in are exciting enough without having battles and bloody violence thrown into the mix. If you're a fan of dystopia and love reading about characters that go on real, emotional journeys this is definitely the series for you. I  actually cannot wait to read more from this wonderful and gifted YA author.
Would I recommend it?:
But of course!
Star rating (out of 5):

Advertisements