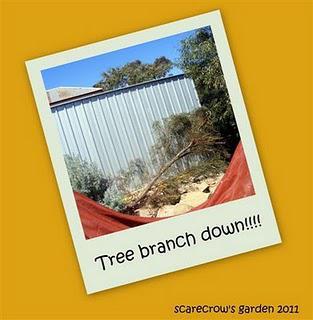 How lucky are we!!! During the windstorms last weekend this tree branch must have missed the new shed by millimetres. This shed has only been up for 6 months and holds Doc's Wooden Toy stock!!!


Weather highlights:


Warmer days, windy days with just a touch of frost!
Highest maximum temperature 30.5C
Lowest minimum temperature 0.5C.
With 1mm of rain that nearly got blown away!!


Propagation:




Potting on/up:


Beetroot
Bull's Blood
Golden Detroit
Chioggia
Chives
Parcel
Black Cumin


Cuttings:


Pomegranate

Punica granatum

info link
Lemon Myrtle

Backhousia citriodora

info link
Lemon Verbena

Aloysia triphylla

info link
Sweet Appleberry

Billardera cymosa

info link
Mushroom Plant

Rungia klossii

info link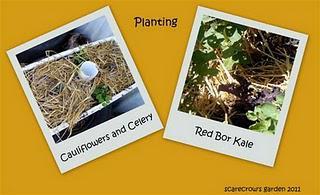 Planting out:


Mini Cauliflower
Celery
Into Wicking Boxes
Kale Red Bor
In between the Crimson Flowering Broad Beans.
It's getting very close to Spring planting time in my part of the world. We just have to get through a couple more frosts this weekend

(including a -2C for Sunday argh!!)

...then maybe some early planting trials...

depending on the seven day forecast

.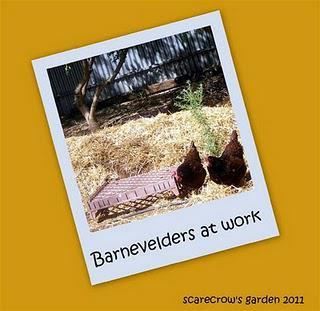 I've let the Barnevelders into the Old Chook Run area to have a final scratch through the mulch layer on the raised mound. Every time I check there are many European Earwigs in the mulch layer. The chooks will no doubt destroy the mound but it will be a small price to pay for being able to plant the Trombone seedlings there soon...

maybe next week!!!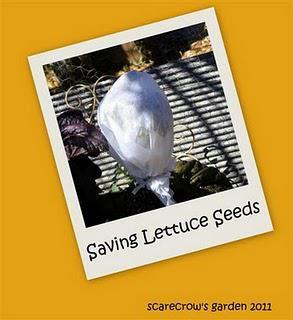 What's this???


I'm saving some lettuce seeds. I've left the last of the lettuce (Drunken Woman) to go to seed and because I have another variety (Crispmint) in the same bed about to seed I've covered the flower heads with a piece fine fleece. This will also prevent cross pollination by the weed Wild or Prickly Lettuce (

Lactuca serriola

) that grows around here. I try very hard not to let this weed flower in my garden as it is very difficult to remove, having a nasty prickly stem.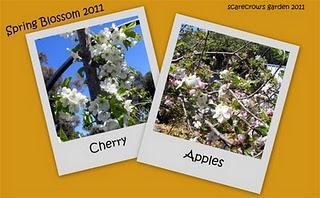 It's time for the Cherry Tree to flower again.
We dream of the fruit that ripens around Christmas.
The Apple Blossom smells wonderful!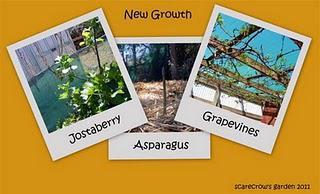 The Grapevine is sprouting new life too
and will soon provide full shade over the back pergola.
We have Jostaberry flowers!!!
The first of the Asparagus is up!