The September view of the garden from the back (SE) corner.
The end of September also means the end of the first month of Spring in Scarecrow's Garden and I am so wanting to start Spring Planting. However we still have potential for frosts so I shall hold off for a few more weeks. Daytime temps are rising but mornings are still quite cool.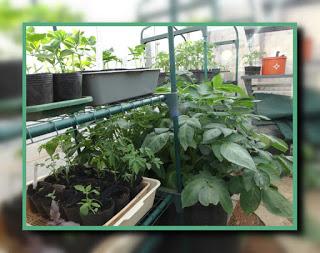 The Potatoes are just about ready to take themselves out of the Greenhouse

Many seedlings are being potted up and on to be ready for planting out. They are now spending their days outside for hardening off. Cuttings are taken as I clear and tidy so I have more hardy plants to fill any gaps around the garden.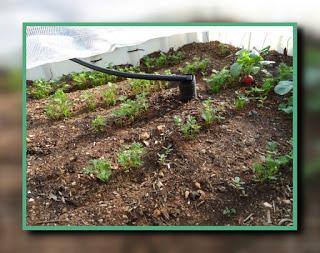 We have Carrots 😊...but so far we have no Parsnips 😢

Weather:
Rainfall September 15.8mm (av 39.1mm)
Year to date total 160.8mm (2018 YTD 141.4mm)
Coldest morning -1C on the 18th Sep
Warmest day 28C on the 15th Sep
8 frosty mornings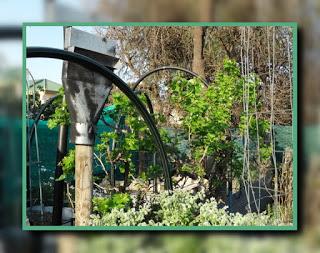 It's great to see the green leaves around the garden
Harvesting:
Mainly greens that are added to salads, stirfries, juices.
Chives
Kale
Miners Lettuce
Parsley
Silverbeet (chard)
Spring Onion greens
Total 125 Eggs from the girls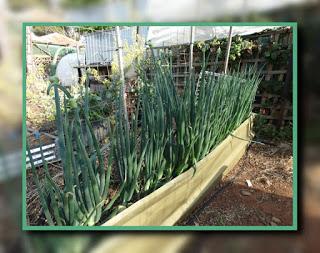 I'm using the tops of these Egyptian Tree (Walking) Onions as spring onions
before they all start to produce their top bulbils.

Purchased plants this month:
Lebanese Watercress Aethionema cordiolum
Native Peppermint Mentha australis From Here:
Golden Oregano Origanum vulgare aureum From Here:
French Tarragon Artemisia dracunculus From Here:
Pink Flamingo/Rainbow Parsley Oenanthe flamingo From Here:
Ferny Azolla Azolla pinnata From Here:
5 Strawberry plants from a market
A punnet of Eggplant Market Supreme seedlings from our local hardware store.