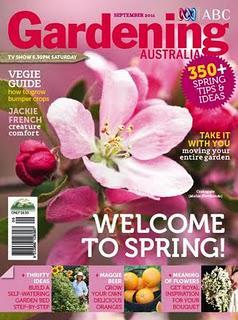 The September issue of the Gardening Australia Magazine heralds the beginning of Spring in Australia!

This issue is jam packed with Spring Gardening Tips, Ideas (350+ of them) and jobs to keep us all busy.

There is a great Vegetable Growing guide from Jerry Colbey-Williams. Even though Jerry now lives in sub-tropical Brisbane he has worked in colder climates (UK) so knows how to garden in all climates.

Maggie Beer has a special on growing Oranges and of course there are a couple of her recipes including an interesting Grilled Orange Asparagus and Witlof Salad, sounds yummy!!

I am pleased to see this magazine now includes quite a selection of practical articles on food growing and great photos of pests and beneficial insect each month. This month's article from Sophie Thomson on the Portuguese Millipede was a helpful read as these pests are increasing in numbers in my garden (and house) and are rivalling European Earwigs as my number one enemy lately!!

There is a step-by-step from Millie Ross on building her version of a Wicking Bed. It's useful to see a different way of doing things but I think I'll stick with my way as it has worked well for me for four years now and I like including worms in my systems!

Check out the Gardening Australia website Here

Or if you are into it, their Facebook page Here



Thanks to the people at Morey Media, who do the PR for Gardening Australia, for sending me a freebie copy of this latest magazine so that I could review it here for you.