That glorious time of year has arrived! That's right, it's time for the Spring Sephora VIB Sale!!! From now (April 16th) through April 21st, VIB and VIB Rouge members receive 15% off all purchases made with the appropriate code (should have been mailed by now - for Rouge members, it is "ROUGELOVE"). If you are a BI member, you will receive 10% off beginning Friday, April 17th. One of my favorite things about these sales from Sephora is that you can use the code as many times as you like - both online and in store. It's fantastic because I don't feel the pressure to remember everything at once, and I don't kick myself if I hear about something amazing the next day. Since there are plenty of cruelty free items from brands that I love available at Sephora, I thought I would share my Top 10 Recommendations with you today.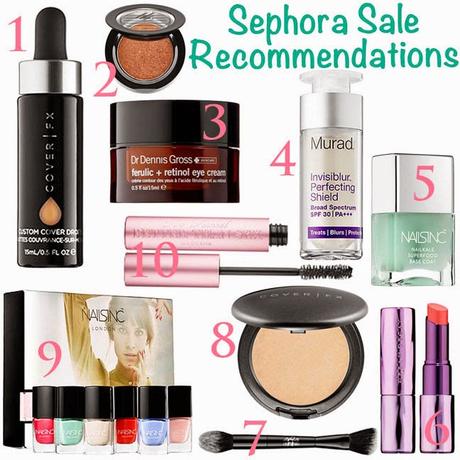 I have a lot more than 10 product recommendations, but we all have limits, right? So what I've chosen with direct links is as follows:
Cover FX Custom Cover Drops - I bought these a few weeks ago and am absolutely impressed (look for a review next week). They are pigment drops that you mix with any non-powder face product to create your own custom foundation! Love!
Ardency Inn Modster Manuka Honey Enriched Pigments - These are absolutely gorgeous eye shadows! I have more than I care to admit. "Rose Gold" is shown in the picture (and it's always sold out!), but I also love "Heaven," "Hell," and "Peacock." I have my eye on "Copper" too!
Dr. Dennis Gross Skincare Ferulic + Retinol Eye Cream - I really love this eye cream! It's a thick gel texture that is totally hydrating without being too heavy. I am prone to little bumps under my eyes (millia) and this has not caused any issues. My eyes are left so soft and supple, while theoretically helping with anti-aging. 
Murad Invisiblur Perfecting Shield Broad Spectrum SPF 30 - This is brand spankin' new and I only have a sample right now, but it is phenomenal! I have a lot of texture issues, and this primer / sunscreen hybrid is hands down the best pore blurring product I have ever tried...and I've tried a lot! I'd grab it for the blurring factor alone, but with the added SPF and anti-aging benefits, it is a sure winner.
Nails Inc. NailKale Superfood Base Coat - This is a fantastic base coat! It sounds gimmicky, but I really do feel like my nails are a bit stronger and in better condition when I use this base coat. And if the packaging alone isn't nice enough for you, the brush on all of the newly packaged Nails Inc. polishes is spectacular! Wider, but not too wide and flat. This is another constantly sold out online product (check in stores 'cause it's out right now too), but definitely check out any of the new Nails Inc. polishes - I have my eye on Abbey Road and the rest of the White Collection (only in stores) right now!
Urban Decay Sheer Revolution Lipsticks - Oh, where do I begin? I love this new sheer formula so much that I currently have 6 ::blushes:: of the shades already! Though they are called "sheer," they are by no means just a hint of tint. These pack a color punch, but in that nice almost stain-type way. Really comfortable on the lips as well.
Kat Von D Shade + Light Contour Brush - I usually hate dual-ended brushes, but this one is just so useful on both ends that I can look past the awkward storage issues. It is so soft and, of course, made with synthetic fibers. The slanted "contour" end works beautifully for applying and blending out contour powders, bronzers and blushes; the "highlight" end is perfecting for highlighting, contouring, setting under eyes, powdering the face, blush, do I need to keep going? Definitely a brush worth having in your arsenal!
Cover FX Illuminator (Moonlight) - This is quite possibly the perfect highlight. It is not glittery or shimmery. It genuinely just creates that ethereal "lit-from-within" glow that everyone wants. The powder is so buttery soft and can be packed on with a finger for an inner eye highlight or used with a brush for a less intense, but strikingly beautiful sheen. It's another one that's often out of stock (like now, so check in stores).
Nails Inc. Spring Summer Mini Gel Effect Collection - As I mentioned above, the Nails Inc. polishes are divine! Though these mini bottles don't have that perfect brush (it's an old-school thin rounded brush), the colors just scream Spring and Summer! This is one of the few nail polish sets that I have come across where I would honestly wear every single one of the colors. 
Too Faced Better Than Sex Mascara - Need I say more? I love this mascara so much that I'm not only willing to pay full price, but I actually don't even want to try any other mascaras! My search for the perfect mascara is over. It's the deepest of blacks, creates fantastic volume and length - my mom sometimes asks if I'm wearing false lashes with this on! - and is water-resistant without being impossible to remove. I've reviewed it here if you'd like to read more.
I could go on and on with more recommendations, as well as my personal wish list, but I won't! Ten is plenty...for now! I would love to hear what some of you are planning to pick up from the sale, or would recommend to everyone else. I hope you've enjoyed this look at some of my picks, and I wish you a wonderful time shopping!!!