I am not a big fan of various types of payasams (Kheer) that prevails in South Indian cuisine.I usually end up preparing badam kheer or any other simple sweet instead of payasam during festivals.But if there is one payasam I really enjoy that is semiya payasam.I prepared it long back and thought of posting it today as 100th post :). I am so happy I have been able to write 100 posts winning over my laze :). Thank you to all my dear readers,blogger buddies and friends inside and outside blogosphere for all your support and encouragement.Please provide your discouragement and valuable comments as they are my stepping stones for growth :) Here goes the recipe for my favorite dessert,as an added bonus my daughter and husband also love this.Since this was prepared long back, I didn't take pictures step by step.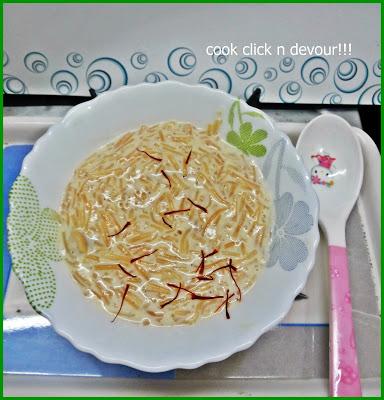 Semiya payasam-Vermicelli kheer
Star ingredients-Roasted vermicelli and whole milk
Time: 30 minutes
Serves: 3
Ingredients:
100 grams thin roasted vermicelli
3 cups whole milk
2 table spoons sweetened condensed milk
2 teaspoon mixed nuts
1/4 cup sugar
1/2 teaspoon saffron
1/4 teaspoon cardamom powder
1 teaspoon ghee
Method:
1.In a small pan add 1 teaspoon ghee and roast the nuts.Remove the nuts alone to a plate.
2.Now bring the milk to a boil in a wide vessel along with sugar,condensed milk.Simmer the flame and add the semiya and roasted nuts.
3.Stir for 12-15 minutes until the mixture starts to thicken and becomes creamy.Add saffron and serve hot or cold.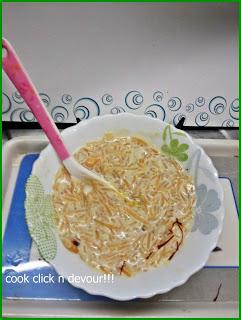 Notes:
1.There are numerous ways to make this kherr.Few people cook semiya separetly and add to the boiled milk
2.You can even pressure cook the semiya up to 2 whistles in milk if you are running short of time,but the taste n texture is little less than stirring method.
3.I used roasted vermicelli,If you are using non-roasted vermicelli,first roast it till light brown in ghee and then proceed