Having traveled around Malaysia, I've been made aware of Muslims' restrictions when it comes to food. So when I read that part of our itinerary is a place that serves exotic food, I was partly shocked but mostly intrigued. The last day of our culinary trip to Selangor came, and we were taken to Restoran Lembah Bernam located somewhere in Sekinchan town. Read more…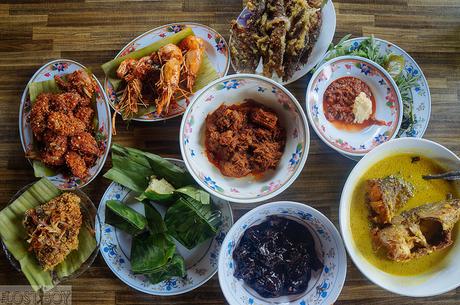 To be honest, although I'm quite adventurous when it comes to food, I'm not yet quite into exotic animals. I've always skipped chances to try frog, crocodile, deer, and crickets, among others, and I sometimes even refuse duck and goat when the preparation isn't appetizing.
As we arrived in Restoran Lembah Bernam, they started to showcase their specialties, and we started to feel like we were contestants in Fear Factor. Call me killjoy, but I had a firm resolve to not eat anything too exotic—and I really couldn't.
Anyway, the first dish served was the pungent tapai. It's fermented rice wrapped in banana leaves, reminiscent of the condiment called buro from Pampanga. Usually inoculated with molds or yeasts to initiate fermentation, Tapai may also be made of cassava or glutinous rice. Along with it came tempoyak or durian that likewise underwent fermentation. It sat on top of the Malay table staple, the sambal belacang (sambal chili with shrimp paste) and leafy vegetables.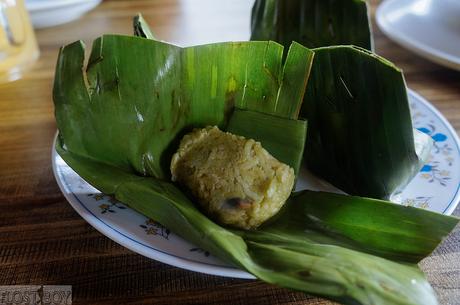 Then the meats came. The first one was rendang landak. Rendang, the popular dish consisting of meat simmered for hours in coconut milk and spices, is usually made of beef or chicken. But Restoran Lembah Bernam intriguingly uses landak or porcupine—yes, the rodents with sharp spines. We were assured though that their porcupines are from a farm and not wild.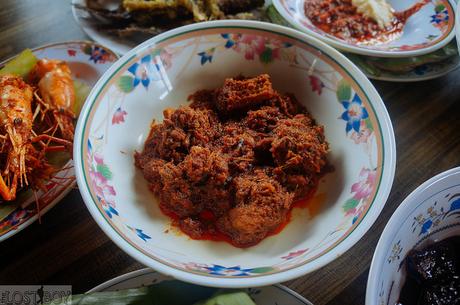 Next was daging rusa masak lada hitam. Beef is usually cooked in black pepper sauce (sos lada hitam), but again, at the restaurant, they use another kind of meat—daging rusa or venison. Sure, eating deer isn't unheard of to us Filipinos, but it's still a delicacy, especially in Malaysia.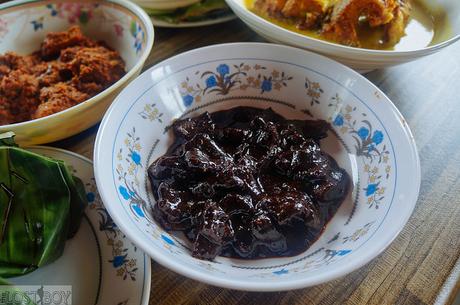 Rounding up our lunch were less exotic fare like ikan baung masak lemak cili api (catfish cooked in coconut milk and bird's eye chili) and sambal udang galah (river prawns with sambal chili). What made me survive through lunch though was the least adventurous dish, the ayam kampung goreng (fried native chicken), which had small bones and less flesh but was very tasty.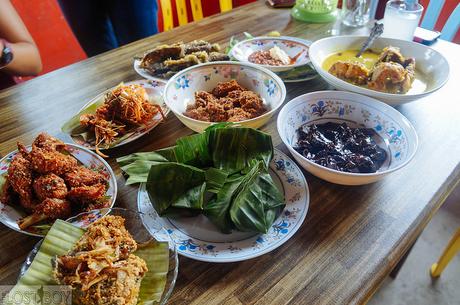 As an aside, I checked online what animals Muslims are not to consume. Based on a list by the Food and Agricultural Organization (FAO), the meats and seafood served to us do not fall under unlawful food in Islamic Law. Some of the unlawful food of animal origin are carnivorous animals with claws and fangs, and animals that live both on land and in water.