There's really nothing like getting dressed up in vintage clothes with a hundred plus friends and strangers and riding bikes around town eating, drinking and picnicing. Nothing like that - except the Seersucker/Tweed Ride, which is exactly like that.
This year's annual summer ride (seersucker being the fabric of choice) took place last Sunday, on what couldn't have been a prettier day. Not too hot, perfect breeze --- all around delightful.
I had picked up my dress for the event at
Bows and Arrows
that week, a perfect 50s summer dress in a light puckery fabric (not completely unlike seersucker - but not seersucker).
Here's a shot
Bella Q
snapped for Sacramento Street Style while we waited for coffee at
Temple
(the start of the ride).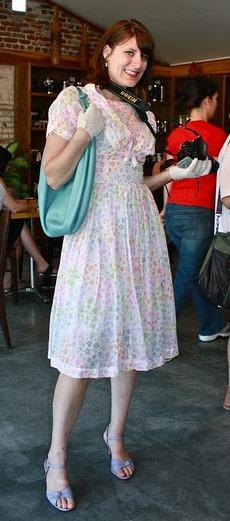 Here's the breakdown:
Dress - 1950s from Bows and Arrows, $25
Shoes - Lavander Penaljo pumps, probably 1950s, purchased from Crimson and Clover, $10
Gloves - vintage, probably 1950s, crocheted gloves with pearl buttons at the wrist, Antique Fair under the freeway - $8
Purse - Hobo, purchased from Crossroads a long time ago, I traded another bag for it - so it was basically free.
Pearls - a gift from my mom, she brought them back from India.
So that's what I wore - here's a collection of the most impressive riders and bikes.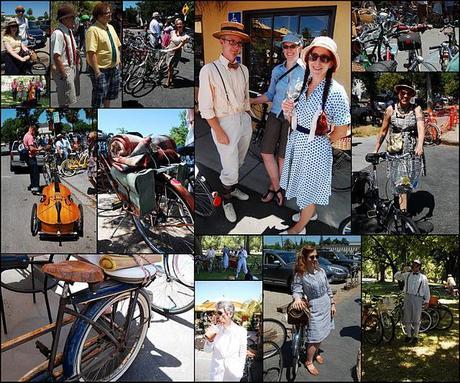 To read about past rides check out these blog posts:
Gearing up for a tweed-ride
The Fall Tweed Ride approaches and bloggy mentions 
A Tweedy Good Time
Seersucker Sunday
And here are more shots of our amazing picnic and my outfit: