See What Your Favorite Dessert Reveals About Your Personality!
27.6.11
Contributor
No comments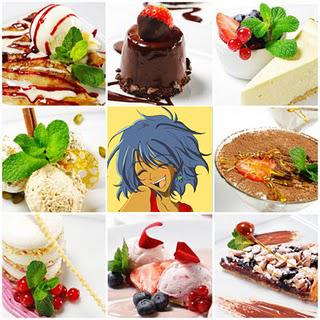 So I received this email recently, it has been going around for a while, and thought it would be fun to post it. Let's see what your favorite dessert says about your personality. 
For those curious, I chose Carrot Cake and the meaning was pretty accurate, I was surprised. 
The quiz goes like this:
If all of the eight desserts listed below were sitting in front of you,
which would you choose (and you can only pick one)!  Pick your
dessert, and then find out what psychiatrists think about your pick
as it relates to you.
Make your choice before you check the meaning.
You can't change your mind once you read their meaning, so think carefully
about what your choice will be; and then 
be sure to put your choice of dessert in our comment box, we'd love to see what is the popular choice. 
Here are your choices:

1. Angel Food Cake
2. Brownies
3. Lemon Meringue Pie
4. Vanilla Cake with Chocolate Icing
5. Strawberry Short Cake
6. Chocolate Cake With Chocolate Icing
7. Ice Cream
8. Carrot Cake
Posted in:
Older Post
Home