In the first instalment of a new series of articles reviewing the past season's fortunes of teams from across the footballing world, Guest Writer Lewis Buckler gives his thoughts on his team's performance in 2010/11.
By Lewis Buckler @YidoBuckler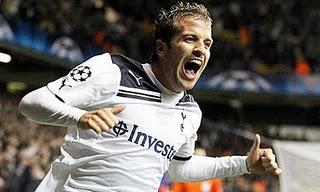 Rafael Van der Vaart proved to be a revelation  for Spurs
this season.
Highs and Lows. Ups and Downs. What seems like a permanent rollercoaster ride. Welcome to Tottenham 
Hotspur Football Club.
I'm not sure too many teams could outplay the European champions, beat the Serie A winners AC Milan away from home and yet manage to lose vital points home and away against the 'poorer' teams in the Premier League. But this was the problem for Tottenham this season. Was it a success? In many ways yes, but ultimately Spurs flattered to deceive in the Premier League and failed to at least maintain a place in the top 4, thus missing out on joining Europe's elite for a second successive season.
1 Point against West Ham. 1 Point against Wigan. 1 point against Blackpool. Two of those sides ended up getting relegated. In the 6 games against said opposition, Tottenham managed just 2 goals, both against Blackpool, in the last minute of each game. This is obviously not good enough for a team wanting to challenge for titles and major trophies. In comparison, Manchester City won all 6 matches against those 3 opponents and scored a hatful of goals to go with it. It could be seen that ultimately, these poor results have cost the lilywhites their place in the top 4 come the end of the season.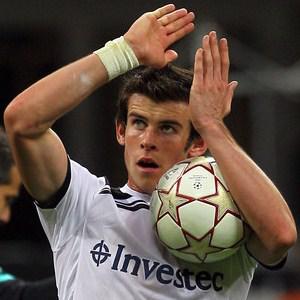 Gareth Bale scored a memorable hat-trick at the
San Siro in the Champions League against Inter Milan.
It's not all doom and gloom though. The 4th place finish the season before brought back European football to White Hart Lane and boy did we witness some of those famous 'glory glory nights'! Lets not forget though the opening game; 3-0 down against Young Boys on their artificial pitch in the playoff after 30 minutes. Things did not look rosy at all. A great Bassong header and a wonderful finish from Pavlyuchenko brought it back to 3-2 however, then the business was finished off in style in North London a week later. A 4-0 drubbing, including a Peter Crouch hat-trick, the catalyst for Spurs to go from strength to strength.
The group stage started with an encouraging 2-2 draw away at Werder Bremen, before FC Twente were blown away by a brilliant 2nd half performance on English soil. Up next was the 'big one' in Milan, European Champions Internazionale. Thirty minutes in. Four goals & a man down. This could have turned into one of Tottenham's most humiliating European nights ever. Until Gareth Bale intervened. Three brilliantly executed 2nd half goals made the scoreline more than respectable in a game that looked all over after just 10 minutes. The return game at White Hart Lane was just as spectacular. An early Van der Vaart goal, racing onto a brilliantly executed through ball from Modric set the tone. Spurs, with Bale shining again, tore into the Milanese. They could not handle the pace and tempo. Eto'o briefly managed to put some nerves into the Tottenham faithful, but in the last minute Bale again showed his quality in setting up the clinching goal. Tottenham 3-1 Inter Milan. A true 'glory-glory' night.
The remainder of the group stage was pretty unspectacular. An under-strength Bremen team were dispatched 3-0 to clinch qualification to the knock-out stages and a thrilling 3-3 draw away at FC Twente confirmed Tottenham's place as group winners. The reward? 7-time European champions, AC Milan.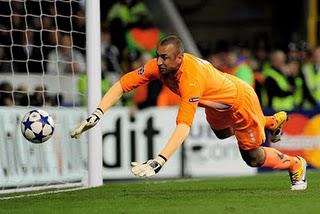 Brazilian 'keeper Heurelho Gomes made a high-profile
mistake in Spurs' Champions League Quarter-Final
 tie against Real Madrid.
The return to the San Siro proved to be much more successful. Tottenham played a composed and clever tactical game against the Italians. Sandro in particular impressed in shackling the attacking quartet of Milan. Gomes made two fantastic saves. Flamini assaulted Corluka. Gattuso went mental (standard) and then, Aaron Lennon skipped past Mario Yepes, raced towards goal and slotted the ball to Peter Crouch. AC Milan 0-1 Tottenham Hotspur. The result was labelled one of the best in Tottenham's rich history. Milan were not dispatched with the same style that their neighbours were in the group stage, but this victory was just as impressive.
It all went a bit sour though in the quarter-finals pretty early on. A trip to Madrid was always going to be a tough ask. Conceded a sloppy goal within minutes and then having Peter Crouch sent off didn't help. After holding out for an hour with 10 men, Adebayor silenced the Spurs fans that travelled to the Spanish capital and made it 2-0. Di Maria made it 3 not long after with a great finish and then Ronaldo topped off the win late on. It was all but over before the return leg in London. Madrid eventually won that game to inflict only the 3rd home defeat in Tottenham's European history on a night to forget for Heurelho Gomes.
Make sure to check back tomorrow for the second and final part of Lewis Buckler's Tottenham Hotspur Season Review.