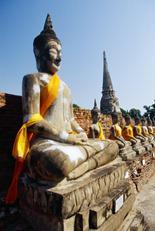 Southeast Asian Airlines (SEAIR), the Philippines' premier leisure airline, will fly from Clark to Bangkok, Thailand at an introductory rate of as low as PHP 2400 per way starting October 31, 2011. Travel period is from October 31, 2011 onwards. This really low fare can be booked through FlySEAIR.com, TigerAirways.com, or at +63 2 849 0100.
SEAIR will fly out of Clark to Bangkok three times weekly and will utilize a 144-seater Airbus 319 as part of the SEAIR-Tiger Airways Partner Airline Programme. The Clark to Bangkok flights are every Monday, Wednesday and Saturday, with the flights departing Clark at 12:35pm and arriving Bangkok at 3:50pm. Return flights are on the same days, with the flights departing Bangkok at 4:40pm and arriving Clark at 7:55pm.
SEAIR also flies to Singapore, Hong Kong, and local destinations, such as the majestic Basco in Batanes, the heritage city of Vigan, El Nido and Taytay in Palawan, Tablas in Romblon, and Kalibo. They offer the fastest flights to Boracay as well. Check FlySEAIR.com or call +63 2 849 0100 for details and bookings. You may also check their page on Facebook and follow them on Twitter.