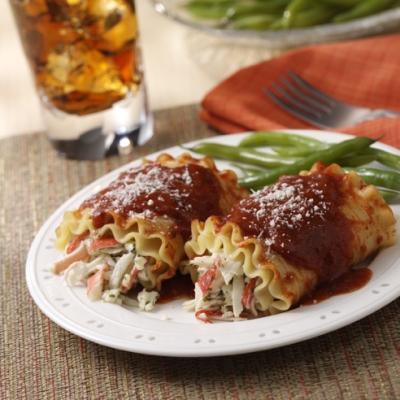 Quick Meatless Meal: Seafood Lasagna Roll-Ups
 This is a guest post by Meredith K. on behalf of Hunt's®.
When you're in the mood for something meatless, what do you make? For many people, especially in the weeks before Easter, meatless meals vary between veggie-filled salads, plain spaghetti or simple fish fillets. If you're used to eating meat on a regular basis, it can be easy to associate vegetarian meals with only vegetables, but there's so much more you can do with them. There are dozens of meatless meals that are hearty, protein-packed and much more interesting than a simple salad—like these easy seafood lasagna roll-ups!
An easy lasagna recipe is always good to have on hand whether you're in the mood for meat or not; lasagnas are traditional family favorites, are great for feeding a crowd and the leftovers freeze well, too. The addition of crab to these roll-ups puts a delicious spin on your typical meatless lasagna recipes, making them so satisfying and flavorful that you won't even miss the meat in your dinner.
Lasagna roll-ups are also perfect for a busy weeknight when you don't feel like spending too much time in the kitchen since they only require 15 minutes of actual hands-on time. Unlike traditional lasagnas, you won't need to spend hours in the kitchen meticulously layering ingredients—just roll up each noodle instead! And since this is one of those saucy tomato recipes and not a cream-based recipe, you can feel good about serving a dish that's filling but still nutritious. Try it out the next time you need a quick and easy meatless dinner, and enjoy!

Print Recipe
Seafood Lasagna Roll-Ups
Yield: 6
Prep Time: 15 min
Total Time: 45 minutes
Ingredients:
PAM® Original No-Stick Cooking Spray
6 lasagna noodles, uncooked
1 8 oz package crab, separated into pieces
1 cup low-fat cottage cheese, drained
¼ cup grated parmesan cheese (plus more for garnish, if desired)
1 large egg, slightly beaten
1 tablespoon dried parsley flakes
¼ teaspoon onion powder
2 8 oz cans Hunt's® Tomato Sauce with Basil, Garlic and Oregano
Directions:
Preheat your oven to 375°F. Spray a 9x9-inch baking dish with cooking spray. Cook noodles according to package directions. Rinse in cold water and drain well.
Combine the crab, cottage cheese, parmesan cheese, egg, parsley and onion powder in a medium bowl. Spread 1/3 of the filling on each noodle and roll the noodles up tightly. Place roll-ups seam-side down in the prepared baking dish. Pour sauce over roll ups.
Bake uncovered for 30 minutes. Garnish with additional parmesan cheese, if desired.
Author Bio: This is a guest post by Meredith K. on behalf of Hunt's®. For more easy lasagna recipes perfect for quick and easy dinners, visit www.hunts.com.