Not much has been happening in the garden...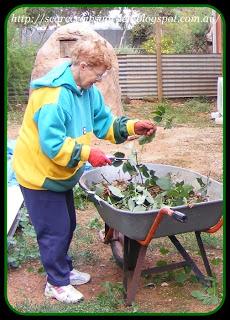 Doc's Mum helping in the garden during 2011.




This November is a month I would rather forget. The only positive thing was that we spent a lot of time with all our family...the reason was the negative. 




Doc's dear, sweet mother lost her battle with Alzheimer's last week. At only 74 years of age it was tragic to watch what this disease did to someone we loved. In many ways her loss is a (very sad) relief.




Temperatures this month:
Lowest Min 1.2C
Highest Min 14.8C
Lowest Max 18.4C
Highest Max 37.3C
1 mm Rain which fell as scattered, light showers during the month

Rain: Year To Date: 347mm (Average YTD: 285.9mm)
Comparison with other years:
November Average is 25.7mm:
2013 1mm
2012 5mm
2011 79.5mm
2010 19.5mm
2009 55mm
2008 55mm
2007 60mm
2006 19.6mm
Weather Highlights?
Very dry with temperatures rising...
Harvest Tally:
Doesn't include Greens fed to the chooks on a daily basis or herbs picked for use in the kitchen for cooking or tea making. For Salads, Juice and Stirfries I have been picking Silverbeet, Gotu Kola, Lettuce, Kale, Parsley, Beetroot  Leaves and Lebanese, Upland and Water-Cress which are not always weighed.
Kale 125g
Red Onions 897g
Silverbeet 48og
Sugarsnap Peas 50g
Total Veg Harvest for November 1.5Kg


Apricots 3857g
Total Fruit Harvest for November 3.8Kg
Total Eggs for November:   54 eggs.
25 From the 1 Farmyard Feral
29 From the 3 Faverolles

November of Previous Years:
2012
2011
2010
2009
2008
2007
2006 This Blog is seven years old this month!!
To see What is planted Where in the Garden check out the newest Map of our place HERE
Come on over to Scarecrow's Garden Facebook page and say Hi!
Check out my Pinterest Boards
Apology:
Any unanswered emails will be replied to as soon as possible...