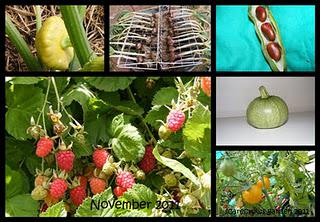 Some of this month's harvest:
Yellow Scallop Squash, Garlic, Broad Beans (for seed)
Loganberries, Rondo De Nice Zucchini
and Ida Gold Tomatoes!


Temperatures this month:


Lowest Min 2.2C
Highest Min 17.5C
Lowest Max 16.2C
Highest Max 36.4C
79.5mm Rain (recorded in my garden)


Rain:

comparison with other years average is 26mm:
2011 79.5mm
2010 19.5mm
2009 55mm
2008 55mm
2007 60mm


Propagation:

listed in weekly updates
Week 1
Week 2
Week 3
Week 4


Harvest Tally:


Doesn't include Greens fed to the chooks on a daily basis or herbs picked for use in the kitchen for cooking or tea making.
Asparagus 342g
Cauliflower Mini 274g
Celery American Stringless 740g
Garlic Purple Monaro 1313g
Garlic White 1389g
Lettuces - Goldrush, Drunken Woman, Red Coral 530g
Onion Stuttgart 296g
Peas Onward 150g
Radish 80g
Tomato Ida Gold 125g
Squash Yellow Scallop 199g
Zucchini Rondo De Nice 2426g
Loganberries 2042g
Strawberries 492g

Eggs: (total for month)
63 From the 5 Farmyard Ferals
32 From the 2 Barnevelders (now only 1)
61 From the 4 Faverolles


November of Previous Years:


2010
2009
2008
2007
To see how the various Garden areas fit on our half acre block check out the newest Map of 'What's Growing Where' HERE
Come on over to the Scarecrow's Garden Facebook page and say Hi!