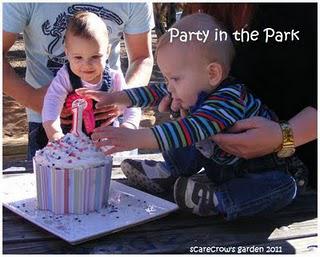 The Grandtwins turned 1 this month




with a Party in the Park!!




Temperatures this month:


Lowest Min -4.1C
Highest Min 8C
Lowest Max 9.4C
Highest Max 19C
Rain 14.5mm


Weather Highlights


The month began with almost spring temperatures of around 20C but the second week brought colder days. Around the middle of the month we had our lowest frost so far this year at -4.1C. The coldest day, saw the most rain fall and the strongest winds which coincided with the winter solstice!


Rain comparison with other years:


June 2010 13.5mm
June 2009 53mm
June 2008 27mm
June 2007 7.5mm


Propagation:

Seeds:


Growth of seeds has slowed this month so I've planted up some punnets in the hot house to give them a start. I would not have planted these in the cold ground at this time of year.
Mizuna Purple

Brassica rapa

Japonica

Group Southern Harvest
Lettuce Miner's

Montia perfoliata

Phoenix Seeds
Lettuce Goldrush

Lactuca sativa

Home Saved Seeds
Spinach Bloomsdale Long Standing

Spinacea oleracea

Eden Seeds
Silverbeet Rainbow Mixed

Beta vulgaris

4Seasons Seeds
The following Broad Beans were planted in loo rolls for a head start and to stop them rotting in the cold, damp soil.
Broad Beans Crimson Flowering

Vica faba

Southern Harvest
The following were started for green manure crops
Broad Beans Coles Early Dwarf

Vica faba

DT Brown
Broad Beans Early Long Pod

Vica faba

DT Brown


Potting up/on:


Mizuna Purple
Lettuce Goldrush
Spinach Bloomsdale Long Standing
Strawberries Pink Flowering
Violet Purple Leaved Wood

Viola labradorica




Seedlings planted out: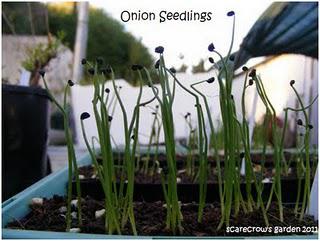 Onion Domenica Sweet
Onion Stuttgart
Onion Red Rossa
Into Wicking Bed 2 Main Veg Garden
Broad Beans Coles Early Dwarf into the Old Chook Run Wicking Bed 1 as green manure
Broad Beans Early Long Pod into the Chook House Wicking Bed as green manure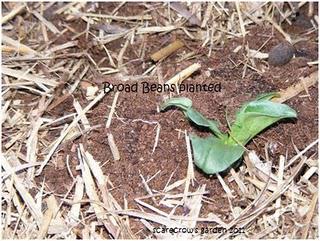 Broad beans started in loo rolls which were buried
with the seedlings so they will decay completely
- any exposed cardboard will cause evaporation of moisture.


Cuttings/Division:


Tansy

Tanacetum vulgare


Grapevines un-named
Loganberry self "tip-layered" pieces, rescued when pruning
Strawberry runners collected when tidying the patch


Plant/Seed Purchases:


Strawberries Pink Flowering
Violet Purple Leaved Wood

Viola labradorica


Spring Seed orders from Eden Seeds, The Lost Seed (included Potatoes) and Diggers details to follow


Around the Garden This Month: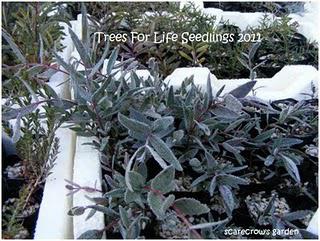 The Trees For Life seedlings
have been collected by their local landholder.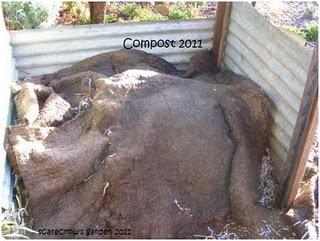 Compost has been made and is tucked up to keep warm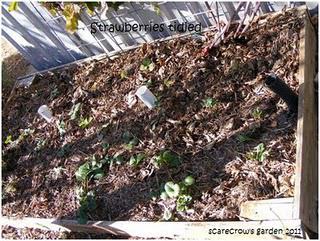 The Loganberries have been pruned
and the Strawberries at their base thinned/fed.
A box of runners removed for planting elsewhere later.
OK so not in the garden but....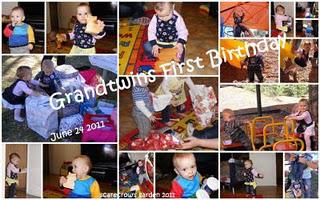 The highlight of the month was the Grandtwins birthday. These little people have been walking for 2 months now so are really getting into everything!!!!
We took them home made gifts - some of Poppy Doc's wonderful wooden toys/puzzles and Nanny Scarecrow made them some tops and trackpants.
Little Mr Blue Eyes puts everything straight into his mouth and loves rough play with Dad while Little Ms Brown Eyes closely studies everything and loves to dance.

Harvest Tally: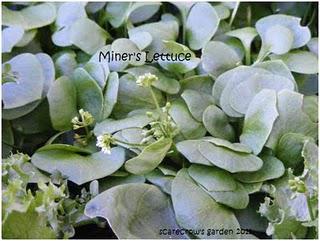 Miner's Lettuce Montia perfoliata
Doesn't include Greens fed to the chooks on a daily basis or greens and herbs picked for use in the kitchen for salads/cooking or tea making. This month this has included Drunken Woman, Crispmint and Miners Lettuces, Parsley, Parcel, Gotu Kola, Shallot Greens, Coriander and Endive. Lots of Dandelions, Thistles, Winter Grasses, Kale and a few bolting Lettuces for the chooks.
Apples Golden Delicious 6656g
Apples Jonathon 509g
Apples Pink Lady 535g
Beetroot Forono 1346g
Celery American Stringless 1805g
Pea Snow Roi de Carouby 40g
Potatoes Bintji 350g
Radish French Breakfast 40g
Silverbeet Rainbow Mixed 175g
Spinach Bloomsdale Long Standing 50g


Eggs


57 From the 5 Farmyard Ferals
27 From the 3 Barnevelders
11 From the 5 Faverolles


June of Previous Years:


2010
2009
2008
2007
To see how the various Garden areas fit on our half acre block check out the newest Map of our place HERE