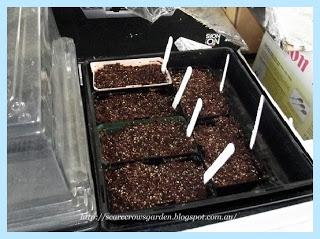 Mid July and time to start the Spring Seed Sowing...Capsicum, Chilli and Eggplant seeds went into the heated propagation unit.
Temperatures this month:
Lowest Min -2.7C
Highest Min 10.8C
Lowest Max 7.9C
Highest Max 19C
65 mm Rain
Rain: Year To Date: 297mm (Average YTD: 185.6mm)
Comparison with other years:
July Average is 33.6mm:
2013 65mm
2012  42.5mm
2011 45mm
2010 27.5mm
2009 35mm
2008 36mm
2007 16.5mm
Weather Highlights?
Another wet month...the farmers are loving it! It is very unusual for us to be having such high levels of humidity too.
Propagation:
Seeds:
These seeds were started in the first half of July and kept in the greenhouse...
Cabbage Portugal Summer Couve Tronchuda Brassica oleracea tronchuda Eden Seeds
Cabbage Red Choi Brassica rapa var. chinensis (F1 Hybrid) Green Harvest
Lettuce Australian Yellow Lactuca sativa Greenpatch these were OODs (Out Of Date)  from a shop in Adelaide
Lettuce Brown Romain Lactuca sativa Greenpatch these were OODs  from a shop in Adelaide
Lettuce Everlasting Lactuca sativa Greenpatch these were OODs  from a shop in Adelaide
Silverbeet Bright Lights Beta vulgaris Eden Seeds
Soup Celery aka Chinese Celery Apium graveolens Old Home Saved Seeds
Spinach Galilee Spinacia oleracea Green Harvest
The following seeds were started on the heated propagation tray in Mid July...
Capsicum California Wonder Capsicum annum New Gippsland seeds & bulbs
Capsicum Sweet Chocolate Capsicum annum Green Harvest
Capsicum Sweet Paprika Capsicum annum Green Harvest
Chilli Pepper Chilli Shake (mix) Capsicum frutescens Mr Fothergill's
Eggplant Casper Solanum melongena Eden Seed
Eggplant Long Purple Solanum melongena Digger's (Old Seed)
Peas seeds went into loo roll holders and were germinated in the greenhouse also in mid July...
Pea Golden Podded Pisum sativum Digger's
Peas Sugarsnap Climbing Pisum sativum Yates Seeds
Potting On/Up:
Grapevines - dug up from chook run fences which are being moved.
Rhubarb Crowns (purchased) for planting out later
Larkspur seedlings
Planting out:
Early Long Pod Broad Bean seedlings into the Edge Bed in the Kitchen Garden and Bed 14
Brown Onion purchased seedlings into Bed 1
Potatoes Dutch Cream bought locally early experiment!
Cuttings:
Grapevine unknown??
Blue daisy Felicia amelloides variegata

Fruit Tree Purchase:
Apple Leprechaun (Dwarf Granny Smith)
Cherry Lapin
Pear Beurre Bosc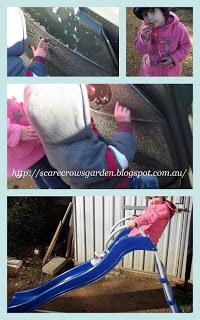 The Grandtwins +1 came for a visit with their mom and stayed overnight!! They got to see what a real frosty morning is like and helped PoppyDoc in his toy workshop and found something other than purple carrots to eat in the garden...Lettuce!!
Harvest Tally:
Doesn't include Greens fed to the chooks on a daily basis or herbs picked for use in the kitchen for cooking or tea making. For Salads, Juice and Stirfries I have been picking Silverbeet, Chinese Broccoli, Celery, Coriander, Cress, Gotu Kola, Lettuce, Kale, Parsley, Beetroot  Leaves and Lebanese, Upland and Water-Cress which are not always weighed. The winter harvest is much lower than other months but we continue to eat out of  our stored food supply.
See side bar for details --->>>
Beetroot 845g
Broccoli Chinese 133g
Broccoli 675g
Carrots 265g
Celery 461g
Kale 559g
Kohlrabi 173g
Parsnip 80g
Peas Snow 80g
Radish 72g
Silverbeet 50g
Sweet Potato 381g
Yacon 62g
Total Veg Harvest for July 3.7Kg
Lemons 970g
Tangelo  428g
Total Fruit Harvest for July 1.4Kg
Total Eggs for July:  21 eggs.
16 From the 1 Farmyard Feral**
 5 From the 3 Faverolles
**We have lived at this site for nearly twenty years and now for the first time we have had a series fox attacks on the chooks! We now only have 4 chooks left, we will not buy any replacements until we securely  re-build the chook runs and add another coop...work on this has begun.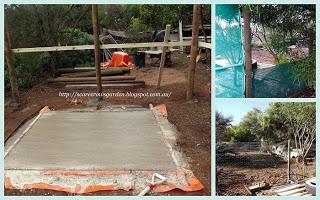 Clearing for the new Chook Run and House that will be close by the Faverolles house for easy maintenance...meanwhile Doc is thinking of all the room we have made for more sheds for a toy workshop expansion!!!
July of Previous Years:
2012
2011
2010
2009
2008
2007
To see What is planted Where in the Garden check out the newest Map of our place HERE
Come on over to Scarecrow's Garden Facebook page and say Hi!
Check out my Pinterest Boards