<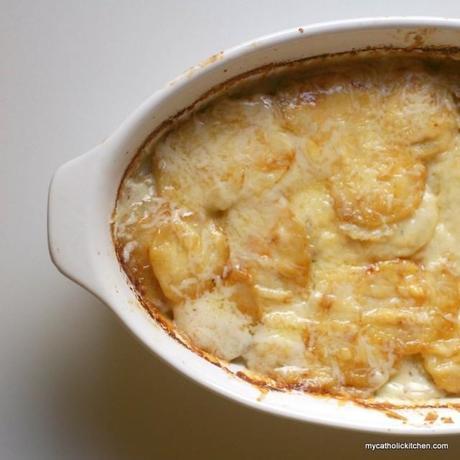 When it comes to comfort food, it is hard to beat the potato. I am not sure if it is my southern or Irish heritage speaking when I say nothing beats a tater! Especially if it is a gooey cheesy Scalloped Potato.  Even if you don't have a big crowd to feed, nothing is better than having a pan of them to graze from, whether it is for breakfast or dinner throughout the week.
Both baking potatoes such as russets and boiling potatoes, such as Yukon Gold work well in this recipe. I like the baking potatoes.  Yes, they do not hold up as well as their cousin the boiling potato, but the starch will make the sauce thick and that is what I love.
I will recommend you use what you have on hand, or what you know you like.
Just have fun with it. Make the recipe your own.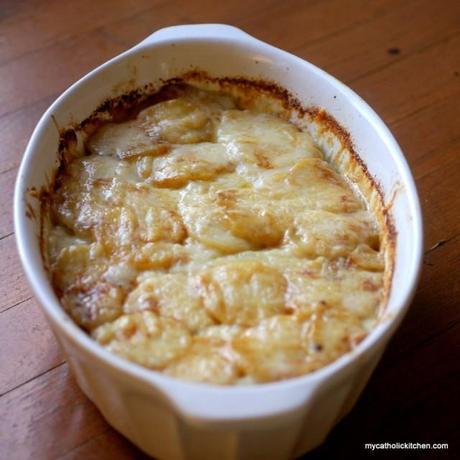 My mom would just slice them with a bit of whole milk and the sprinkle Parmesan cheese. When it comes to cooking the potatoes, some people like my mother prepared it low and slow. Not me, I like to par cook my potatoes on the stove before I finish them in the oven.  This way we know they are seasoned evenly. 
Scalloped Potatoes are definitely a recipe worth keeping in your arsenal, especially for those nights when you want something extra comforting. This is delicious served straight from the oven. I however love to eat it when it has cooled a bit. I prefer it reheated the next day. This is really good for breakfast too.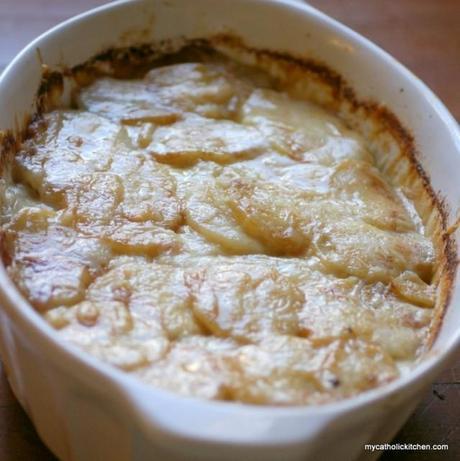 Print Recipe
Scalloped Potatoes
Ingredients:
2 cups heavy cream and half and half
1/2 teaspoon salt
1/2 teaspoon pepper
2 garlic cloves minced
1 imported bay leaf
2 1/2 pounds baking potatoes peeled
4 tablespoons Gruyere Cheese
Directions:
Pour the 2 cups of cream into a heavy saucepan. Stir in the salt, pepper, garlic and bay leaf. Slice the potatoes about 1/8 inch thick. Put the potatoes in the cream mixture and allow to barely simmer for about an hour.
Preheat oven to 425 degrees.
When the potatoes are tender, put them into the buttered baking dish and sprinkle with the grated cheese. Remove the bay leaf before baking.
Bake in the oven for about 20 minutes until bubbling, hot and lightly browned on top.
Peace be with you,
Veronica