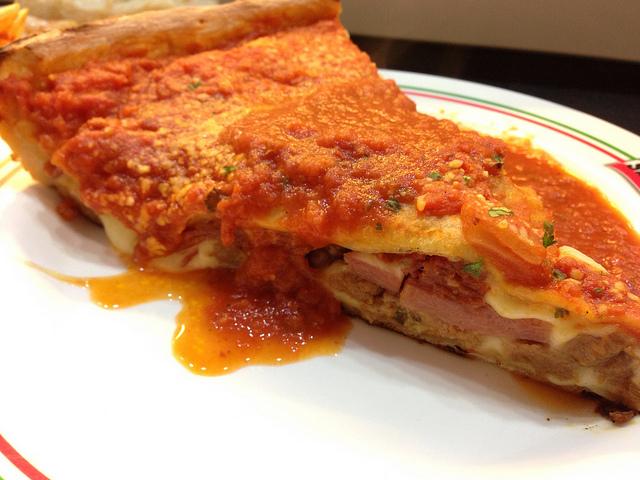 Do I even need to write a post about this?
Yes.
A picture may paint a thousand words, but a thousand words wouldn't be enough to describe how good this pizza is. Alvie and I dropped by
SM Aura
to catch
Fast & Furious 6
 one Thursday. This was my second time and no, I'm not in love with Toretto. I accompanied Alvie because she wasn't able to watch it with me the first time. Since we already tried Pepper Lunch last time, I managed to convince her to have dinner at the home of my second favorite pizza and my favorite Ziti, Sbarro!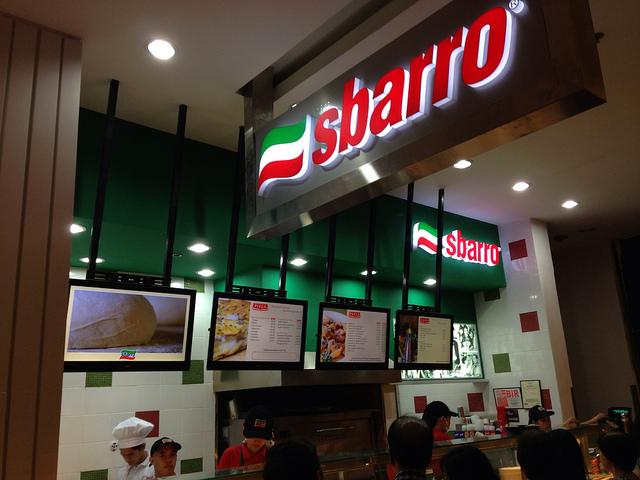 The ol' green, white, and red won't let you down.
Unlike Pepper Lunch nearby, this isn't a downgraded version of Sbarro. It's the real thing. It wasn't too difficult to decide to go for my usual favourites.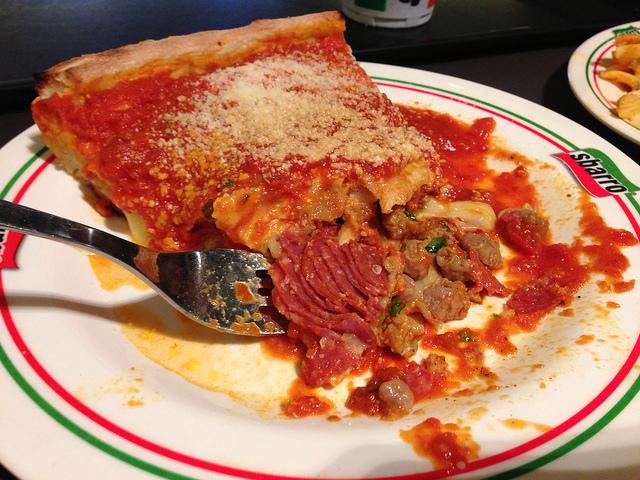 Stuffed Pizza: Chicago Deep Dish, P179.00
Well, that was fast! Just look at the mutilated wreckage of this wonderful stuffed pizza. There's meat, cheese, meat, and more meat. It ain't dry at all either, because delicious pomodoro sauce is poured over it. Also great choices are the Chicago White stuffed pizza and the plain white pizza. The white stuffed pizza is drenched with this amazing white sauce, which is also on...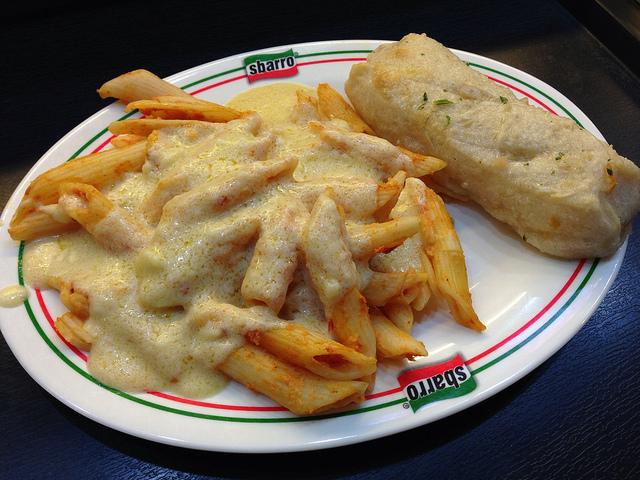 Baked Ziti (Half), P99.00
Half a serving of all amazing. The problem with Ziti is because of its shape, when it is served anywhere else, the sauce and flavor just don't seem to stick to the pasta like it should. Anywhere
else
. Sbarro does it perfectly with each rich piece lightly coated and stuffed with Mozzarella cheese. That's the usual case, but this time, I think they gave us the bottom pasta from the platter and there was a noticeable lack of cheese. It was still great, but that was unfortunate because it could have been so much better. You can have this with pomodoro or meat sauce instead and even spring for an additional meatball or two. They have good, herb-infused meatballs, in case you'd want to give that a shot. I always prefer the white sauce because I am into rich and creamy pasta, and this liquid gold sauce is just that. I love that it's still under a hundred bucks. It's so good that you might want to get the full order, though. I almost forgot about the garlic bread! It's firm yet moist, and garlicky flavorful. The perfect tool to scoop up all the sauce you missed. Nothing wasted. :)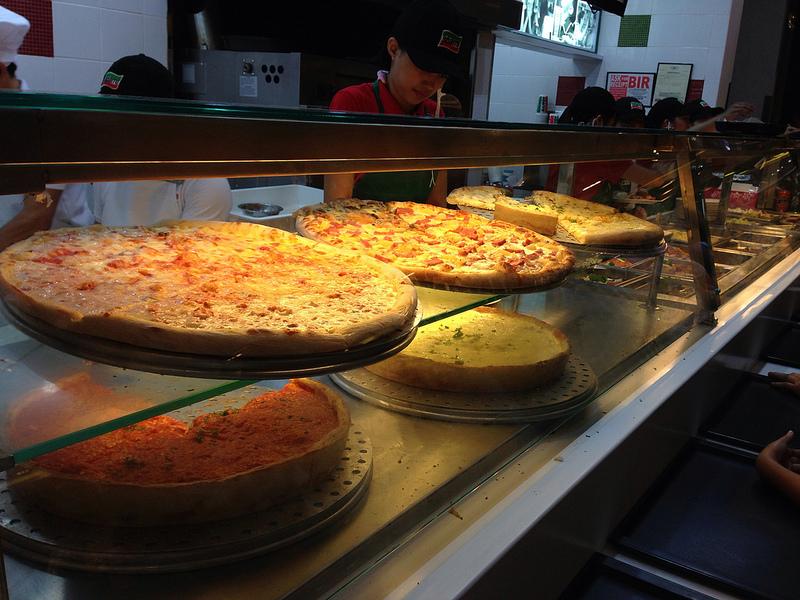 Is it any wonder Pizza is my third favorite dish?
Verdict:
Stuffed Pizza: Chicago Deep Dish - Excellent!
Baked Ziti: Great (would have been Excellent if not barren of cheese)
Sbarro has easily been one of my favorite fast food restaurants (tying with Taco Bell and KFC) since days long past in the old Glorietta. Here, you'll get to try the best stuffed pizza and if you're not unlucky as we were, the best baked ziti Manila has to offer.
 Buon Appetito!
Love Sbarro? Hate it? Let me know by commenting below, or just
tweet
 me!

In case you were wondering, My Favourite Pizza:
S&R: My Favourite Pizza
Other Restaurants in SM Aura:
SM Aura Premier: Pepper Lunch Express under the Sky Park
Other Restaurants in The Fort:
Good Earth Roasts (GER)
IHOP: The Latest Pancake Craze
Jollibee: Ultimate Burger Steak and Flip Float
Kasbah: A Moroccan Lunch
Racks: My Favourite Ribs
Saint's Alp: Taiwanese Chicken Goodness
Stacy's: The Sweet Kind of Retro
Stella Wood Fired Bistro: Nothing Less Than Stellar
Tapeo: Spanish Surprise at the Fort Strip
The Cheese Steak Shop: Philly Cheese Steaks in the Phillyppines
Toast Box: Going Goreng
The Kebab Factory: The TKF Trilogy
Wrong Ramen: The Weirder, The Better
SBARRO
4th floor, Food on Four
SM Aura Premier, McKinley Parkway
McKinley Hill, Taguig City
Facebook: Sbarro Philippines
Website: http://www.sbarro.ph/
View Larger Map