Sbarro Rigatoni Ala Vodka
This is one of the best and healthiest dish in my opinion and I definitely recommend to anyone who like rigatoni. Honestly this dish is not only simple, easy and great to make it just tastes divine as well. I can only exaggerate so much but giving it a try yourself would than you only know what I am talking about. This rigatoni ala vodka recipe is just the thing I can have all the time and everything for my healthy lunch ideas. I mean it is the sort of dish where you can have it with someone else and still not feel bad just cause the ingredients are simple. Honestly my girlfriend was impress by this rigatoni ala vodka recipe when I made it for it on valentines day. My god she just would stop loving me that day. Any ways give it a try any let me know what you think about this rigatoni ala vodka recipe.
Ingredients:
2 lbs. rigatoni
24 oz. canned tomato sauce (plain)
2 tablespoons olive oil
2 cloves fresh garlic, minced
1/2 teaspoon cracked red pepper
1 tablespoon salt
1/2 teaspoon black pepper
1 teaspoon dried basil
1/2 quart heavy cream
1 1/2 oz. vodka
1 oz. grated Romano Cheese
1 oz. bacon bits
1/2 oz. Italian parsley, chopped
Directions:
In a medium sauce pan, heat oil until hot.
Add garlic and saute until golden brown.
Add tomato sauce, salt, red pepper, black pepper, and basil.
Cook over medium heat, stirring occasionally, until thoroughly heated.
Add heavy cream and vodka.
Stir to mix and cook for a few minutes.
Boil rigatoni according to package instructions (do not overcook).
In a mixing bowl, combine drained pasta with cream sauce.
Mix thoroughly.
Transfer to a serving bowl and sprinkle with grated cheese, bacon, and parsley.
Serve immediately
Enjoy!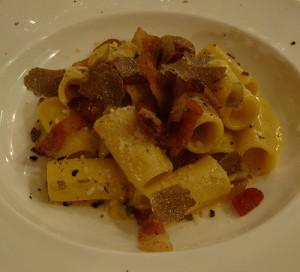 Photo by: MollySVH