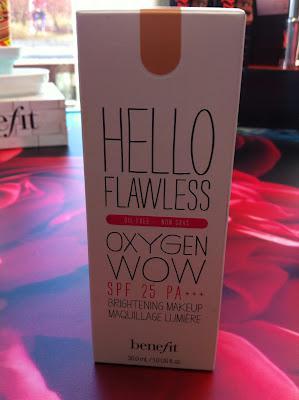 Benefit's Hello Flawless Oxygen Wow Foundation
I was lucky enough to be invited to a beauty bloggers event hosted by Benefit last week. (You can read more about it here.) Whilst at the event we were given a sneak peek of Benefit's new foundation, Hello Flawless Oxygen Wow.
This foundation comes in a 300ml bottle with a pump top. It is oil free and comes with SPF 25. These are all major positives in my opinion. I prefer pump tops to prevent messiness. I have spot prone skin so oil-free is a definite positive so not to encourage breakouts, and being on the pale side, an SPF is a must. This is one of very few foundations that provides such a high coverage.
With such a high SPF I was optimistic that there would a few shades for us pale and proud girls, the palest in the line is Ivory. I tested it on my hand and it does seem quite pale, although it isn't the palest I've come across but I guess I won't know what the color is really like until I get to try it properly. There are 9 shades in the range all together. However, we will have to wait until the Hello Flawless Oxygen Wow launch date on the 31st March to give it a try. It will be on sale for £24.50, will you be giving it a try?