Each month I see posts on beauty blogs about the products they've finished this month and I wonder how these bloggers get through so many. However, I decided it was time to have a clear out of my makeup bag and it turns out I had loads of finished products, I just didn't want to throw them away! So, in an attempt to overcome my tendency to hoard finished products here is my first empties post! I've decided to focus on foundations and mascaras.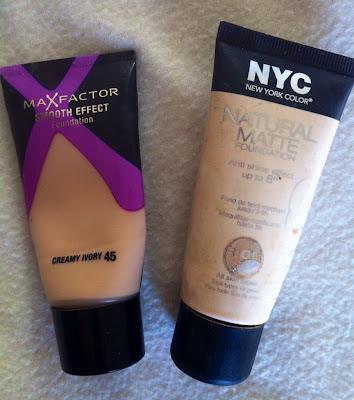 NYC Natural Matte Foundation and Maxfactor Smooth Effect Foundation
FoundationNYC Natural Matte Foundation
So this foundation costs £2.99 from Superdrug and I love it. It doesn't have an SPF like you would expect from a more expensive product but this really works for me. It is medium to full coverage, is buildable, easy to wear and is long wearing. I think this is a real gem and a real bargain.
Cost: £2.99Would I repurchase: Yes! 
You can read a full review of NYC Matte Foundation here.
Maxfactor Smooth Effect Foundation
This is another foundation that I love. Again it doesn't come with an SPF but it is oil free and doesn't clog pores.This foundation is great for evening out skin tone and cover minor breakouts, however it isn't the best on more severe breakouts as it can look quite cakey.
Cost: £7.99Would I repurchase: Yes
You can read a full review of Maxfactor Smooth Effect Foundation here.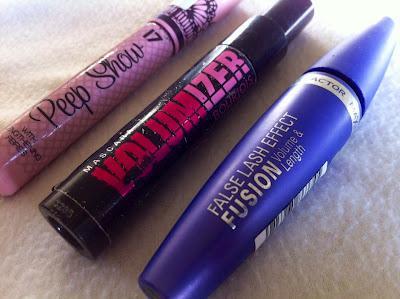 MascaraBourjois Volumizer Mascara
This mascara has a two wands that create impressive volume. The formula is a little wet and it  clumps easily. I personally find the two wands a little bit fussy but when you get used to it and can recognize when to stop before it starts clumping, the end results are impressive.
Cost: £10.49Would I repurchase: Maybe, a good mascara but not fond of the two wands.

You can read a full review of the Bourjois Volumizer Mascara here.
17 Peep Show Mascara
A good lengthening mascara that is great for everyday. It is buildable and doesn't clump easily but isn't one for those looking for a false lash effect.
Cost: £6.29Would I repurchase: No, this is a nice mascara but I need volume as well as length. 

You can read a full review of 17 Peep Show Mascara here.
Maxfactor False Lash Effect Fusion Mascara
This stands as my favorite mascara of all time! I am open to suggestions of others to test if you feel you have a rival but I LOVE this mascara! It is easy to apply and creates high impact lashes. I haven't come across a better mascara yet.
Cost: £10.99Would I repurchase: Yes

You can read a full review of Maxfactor's False Lash Effect Fusion here.