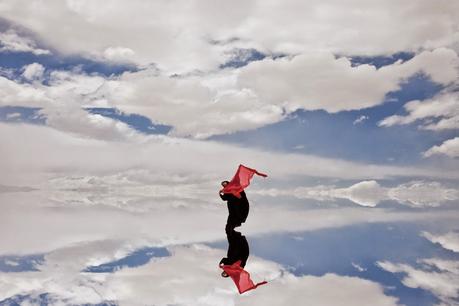 Ayyam Gallery is pleased to present Sand Rushes In, the forthcoming solo exhibition of United States-based, Palestinian-Iraqi artist Sama Alshaibi.Curated by Isabella Ellaheh Hughes, the exhibition will highlight Silsila (2009-present), an ongoing multimedia project by the artist that was shown as part of the Maldives Pavilion of the 2013 Venice Biennale.Alshaibi has recently created new works for the series, including video installations and large-scale photographs.Sand Rushes In will also mark the UK launch of the artist's eponymous monograph, which is edited by the curator and published by Aperture Foundation, New York.
Inspired by the nomadic traditions of Bedouins and the writings of fourteenth-century Moroccan explorer Ibn Battuta, 
Silsila
 (Arabic for 'chain' or 'link') depicts the artist's journey through the significant desert areas and bodies of water that connect North Africa and West Asia to the Maldives, an island nation located in the Arabian Sea and the Indian Ocean.
Performing at various sites in North Africa and West Asia, Alshaibi has composed a body of work that describes the desert as a place of enduring paradox.As Alshaibi demonstrates with visual poetics and laden imagery, the desert can serve as the starting point for a broader cultural reading, revealing the mystical and historical importance of such environments, through which the region, even more broadly, the world, can re-imagine an uncertain ecological future. 
Date         : 26 March - 9 May, 2015
Timings    : 26 March (6PM - 8PM)

Venue      : 
143 New Bond Street, 
1st Floor, 
W1S 2TP, London. 
L
ike our fan page on Facebook
here
,
or follow My Vitrina on Twitter
here