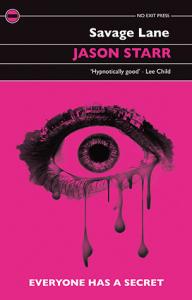 What's it all about?:
EVERY TOWN HAS ITS SECRETS
In Savage Lane, Jason Starr has crafted a searing tale of suspense that proves the adage: Love thy neighbor, but don't pull down your hedge. Karen Daily, recently divorced, lives with her two kids in a quaint suburb of New York City. She's teaching at a nearby elementary school, starting to date again, and for the first time in years has found joy in her life. Mark Berman, Karen's friend and neighbor, wants out of his unhappy marriage, and so does his wife, Deb, but they have stayed together for the sake of their children.
Unbeknownst to Karen, while Mark's marriage has deteriorated his obsession with her has grown. And as Mark's rich fantasy life takes on a more sinister edge, rumors begin to spread about Karen and a bigger secret is uncovered. And soon Karen finds that Mark is not the only one who has taken an undesired interest in her…
Jason Starr is one of our most accomplished writers of the darkness that lies within the human heart, and Savage Lane is his most riveting and intimate novel yet—a dark, domestic thriller and an honest, searing satire of a declining marriage, suburban life, and obsessive love.
What did I think?:
First of all, a huge thank you to http://www.nudge.com, No Exit Press and New Books Magazine for sending me a copy of this darkly comic thriller. I'm not actually familiar with any of the author's work but now I've read this novel, I'll definitely be checking out more from Jason Starr. There are a number of surprises and twists in the plot that made me unsure where he was taking the story but I thoroughly enjoyed everything that happened. We have a number of major and minor characters that make the plot-line interesting and made reading just that little bit further on hard to resist. I can't really say if there was a main character, the reader sees the story from various perspectives – the first, beautiful Karen Daily who has two children and is divorced but is trying to get her dating life back on track, even if she has to kiss a few frogs in the process. She is close friends with a man called Mark Berman who is married himself but has found himself becoming completely obsessed with Karen as his marriage begins to deteriorate from the inside. The only problem with this is that she does not reciprocate his feelings… cue potential awkward moments? Yes, this novel has them in abundance. Furthermore, life for Karen on Savage Lane is about to get a hell of a lot darker.
It is Mark's wife Deb who is the focus of the story, in the beginning that is. She becomes convinced that Mark is cheating on her with Karen after she believes that she has seen them holding hands at a dinner party. At first, Jason Starr appears to play with the reader a little bit as we become unsure ourselves whether the pair are actually having an affair. It doesn't really help matters when we find out that Deb is a little bit too fond of a tipple and her alcohol-fuelled arguments with her husband may give Mark the way out of his marriage that he seems to be searching for. What Mark doesn't know is that Deb has her own dirty little secret, something so dark and incredible that worrying about what her husband is getting up to might not be her worse problem.
I don't really want to say too much about the plot for fear of spoilers but it was one of the most unique things I have read this year so far. What makes this story all the more intriguing is that not many of the characters are likeable at all and I did struggle at times to feel any sort of sympathy with them. At first glance, you may think that the story resembles your average psychological thriller and there have been comparisons of this book with Gone Girl and Apple Tree Yard, which are both excellent books in their own right. I'm happy to report however, that Savage Lane stands on its own quite confidently in the genre as it seems to have something a bit different, creepy and wacky at points yes, but certainly a book that cannot be compared. It has all those necessary elements of a great read – an exciting plot with twists I did not anticipate that kept me wanting to turn the pages and interesting (occasionally frightening) characters that show real individuals with flaws, warts and all!
Savage Lane is published by No Exit Press in the UK on the 22nd October 2015.
Would I recommend it?:
But of course!
Star rating (out of 5):