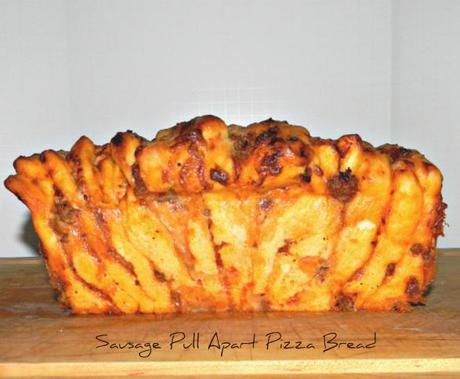 I was jazzed to finally make this bread. I swear, out of all the recipes that I have been dying to make, this is No.1 on my hit list. Why would I wait a full year to make this? I think Summer got in the way.
This bread awakened a fond food memory from my teenage years.
When I was seventeen and a senior in high school, we would sneak off school property on Fridays and go to the local pizza parlor to buy pizza bread and a Coke for $1.00.
It was a Stouffer's French Bread Pizza before there was a Stouffer's.
They would cut a long Italian loaf lengthwise, spoon sauce and sprinkle mozzarella cheese on both sides and bake it like a pizza. It was pure heaven and a great way to TGIF. We were always running back to school because we were always late, but it was worth it. Back then you were not allowed to leave the school grounds unless you had permission.
This is basically the same thing but the bread is side-by-side and in slices. There are as many savory pull apart bread versions out there in the blogosphere as there are sweet. Instead of pepperoni (the odds on favorite) I used sausage meat. Hot Italian sausage to be exact. A favorite in this house and sausage of choice 99% of the time.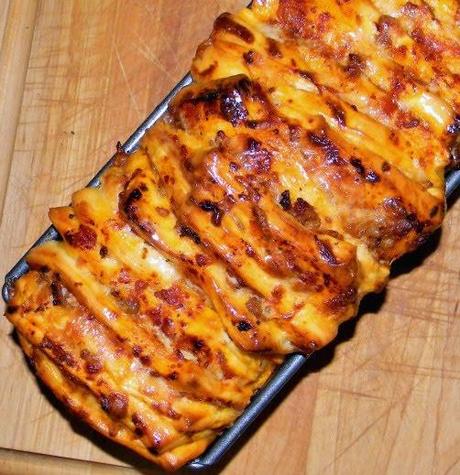 I do know pepperoni has it's fair share of fat (which can not be drained) which which will be absorbed into the bread making it higher in fat and yes, tasty too.
I cooked the sausage first, drained it well on paper towels thus eliminating the extra fat with all the same great flavor.
If you wanted to use chicken sausage, slice them thin before using as they are usually precooked and won't cook like sausage meat. You could also just forgo the sausage completely, and just make it the way that pizza place did 40 years ago.
Oh, yum. Doesn't this look wonderful?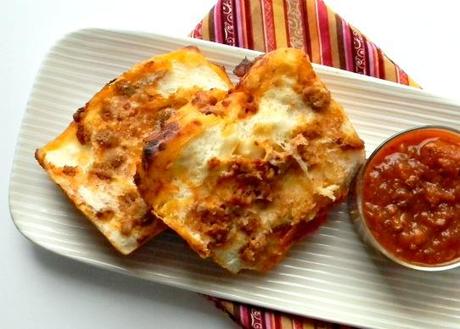 Two pieces were more than enough for dinner and quite filling. Serve with extra sauce on the side.
With The Nudge in new Hampshire, I get to make a full version, eat what I want, store some in the fridge for another day and then wrap some for freezing. Pizza of any kind is not like a casserole. It does not get better 'the next day', so knowing if it's worth even saving will let you know if it's even worth making.
I did not make mine exactly as written due to shortage of space so I am sending you over to the site that I pinned this recipe from.
To see an excellent picture tutorial of the right way to do this, you need to visit Kelly's post over at her beautiful blog justataste.com.
Any good jarred sauce would be fine but nothing beats homemade if you have the time. Make extra for another day.
My recipe for the dough is different than Kelly's but just as easy to work with. I use the dough recipe from Spago, where pizza is King.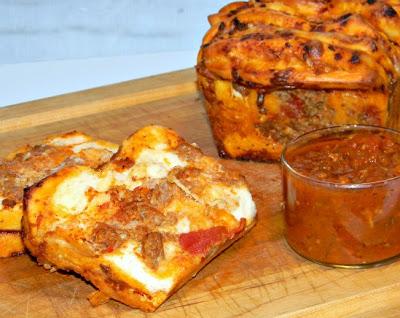 Pizza Dough
makes 1 large pizza or loaf
* 1/4 cup water
* 1 cup milk
* 1 tablespoon honey
* 1 packet dry yeast (2 1/4 tsp)
* 3 cups bread flour
* 2 tablespoons olive oil
* 1 teaspoon salt
* bench flour
* 9x5 loaf pan
1. Microwave milk for 1 minute. Add honey to water, mix into the milk. Add yeast, stir and let it sit for 5 minutes. Once foaming it is ready to use.
2. Place flour, salt, olive oil into a bowl of a stand mixer or a bread machine.
3. Using the hook attachment, set the machine to #2 (or knead on machine) and while machine is running, slowly pour in the yeast/milk mixture. Once everything is incorporated, turn on to #5 (start on the machine) and run for 5 minutes.
4. Remove dough and make a ball out of it. Oil a bowl and place the dough into the bowl, cover with plastic wrap and set it in a warm place. I put mine next to my baseboard heater. It should double in size in an hour.
5. Remove from the bowl onto a wooden board and roll out to a 20x16" rectangle.
6. Brush sauce over dough, then sprinkle meat and mozzarella cheese. Square off the edges and cut 5 squares across and 4 down for a total of 20 pieces. Stack them side-by-side in a loaf pan and cover the allow it to rise a second time.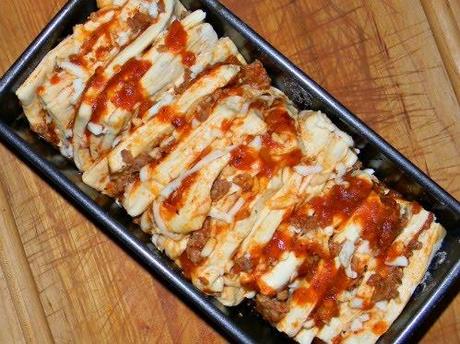 7. Preheat the oven to 350° and bake for 30 minutes.
Allow to cool thoroughly before removing from the pan.
People can just pull as much as they want, or you could pre-pull the loaf and reassemble in a basket lined with parchment paper.
I wrapped the remaining loaf in foil and froze. I will defrost totally before baking the loaf in a 350° oven for 10 minutes.
I even imagine this as a bread to serve with a spaghetti dinner or go all out and use it to make a garlic bread. Now that's a good thing. Enjoy!