Sometimes we get bored with cooking and eating the same food everyday…rice/roti, dal/lentils, one vegetarian dish or a non vegetarian dish. What about trying something else rather than these routine stuffs which will be a complete meal by itself, both nutritious and delicious at the same time? This is a rice dish but not the usual pulao or biryani but a kind of fusion dish with Chinese flavours. Sausage fried rice as I love to call it, is a very easy and simple dish for which you need good quality aromatic long grained basmati rice, some assorted chopped veggies and chicken sausages/frankfurters and soy sauce (light or dark whichever you prefer). Though always a hit among kids this dish is bound to please you as well.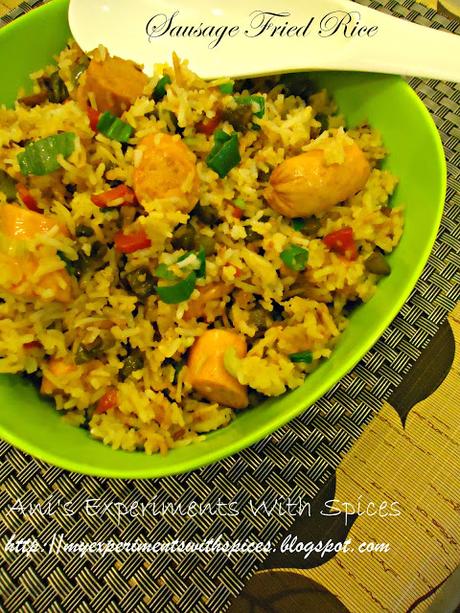 The way I made it:
 
Ingredients:
 
2 cups of fragrant long-grained Basmati rice
8-10 chicken sausages cut into pieces
½ cup carrots chopped
½ cup green bell peppers chopped (you can add red or yellow bell pepper too if you wish to make the dish more colourful)
½ cup beans chopped
2 onions chopped
1 tsp garlic chopped
½ cup spring onions chopped
½ cup mushroom chopped
1-2 tablespoons dark soy sauce
1 tablespoon white vinegar
Salt to taste
1 tsp monosodium glutamate/ ajinomoto (optional)
White oil as per requirement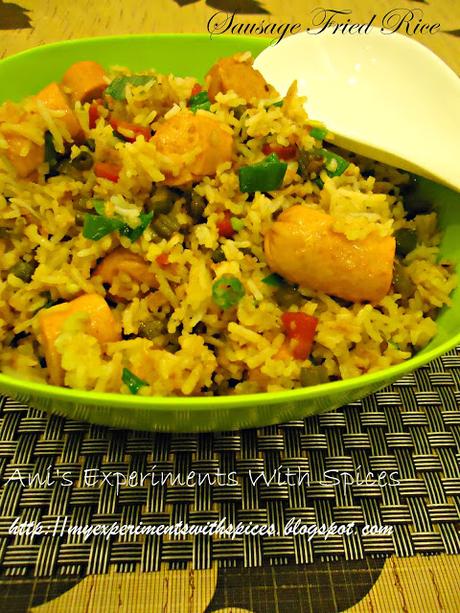 Procedure:
 
Step 1:
Cook the rice with a little oil and keep aside to cool.
Step 2:
Heat oil in a wok and toss in the onions and garlic. Fry them until translucent. Add all the chopped veggies except spring onions, continue to sauté. When the veggies are almost done add the sausages, saute. Add salt, a pinch of sugar, vinegar and soy sauce. Continue to stir.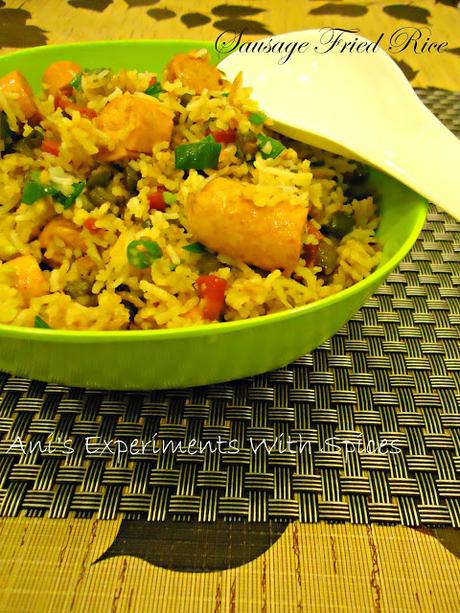 Step 3:
Add the pre-cooked rice into the wok and sprinkle some monosodium glutamate. Lightly toss the veggies and sausages with the rice for 2 minutes on low flame. Add the chopped spring onions. Give a final stir and switch off the flame, your wholesome, delectable meal is ready. Give 5 minutes standing time for the rice to soak in the flavours nicely before serving..