Do you have on your mind something special this weekend? Look no further because this is the dish you have been searching for. An awesome dish grand in texture and amazingly delectable, flavourful, will give your palate a heavenly feeling with each bite. Was thinking of making a completely different kind of chicken dish for some time which will go well with both rice and roti/parantha and will spurt surprises both at lunch and dinner table. Came across this recipe in a recipe book after enormous search, but made some changes here and there to suit my requirements.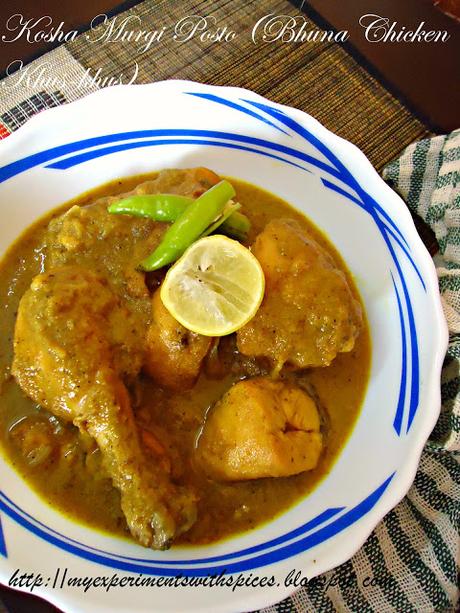 The way I made it:
 
Ingredients:
1 kg chicken regular cut
4-5 onions chopped
2 tsp garlic paste
2 tsp ginger paste
A whole lemon juice
1-2 tsp green chilli paste (depending on the hotness you want)
3 tablespoons posto/khus-khus/poppy seeds
2 tsp cumin seeds/jeera
2 tsp coriander seeds/dhania
2 sticks of cinnamon/darchini
6 green cardamoms/chhota elaichi
4-5 cloves/laung
1 tsp turmeric powder/haldi
Salt and sugar to taste
Mustard oil as per requirement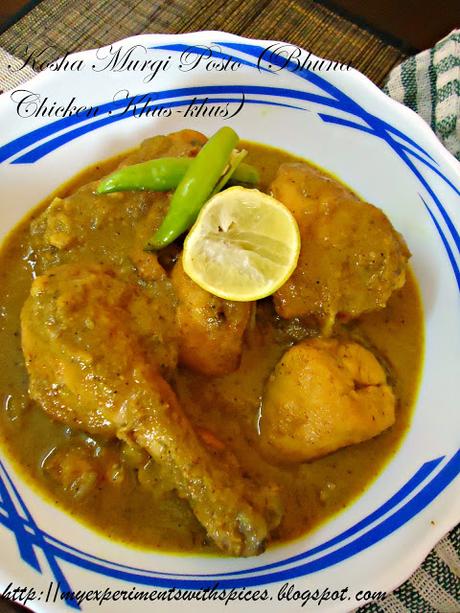 Procedure:
 
Step 1:
Toast poppy seeds, cumin seeds, coriander seeds, cinnamon, cardamoms, cloves, turmeric powder on a hot tawa for a few seconds. Remove them to the container of your mixer grinder and soak them in a little water for half an hour. Grind them to a fine paste.
Step 2:
Smear ½ tsp turmeric and some salt on the chicken pieces. Heat oil in a wok and lightly sauté the chicken pieces. Take them out and keep aside.
Step 3:
In the same oil add the onions and fry till golden. Add the ginger garlic paste and green chilli paste, sauté. Add the chicken pieces, salt, sugar and the ground spice paste. Saute/ bhuno for some minutes on low flame for the flavor to get well absorbed in the chicken.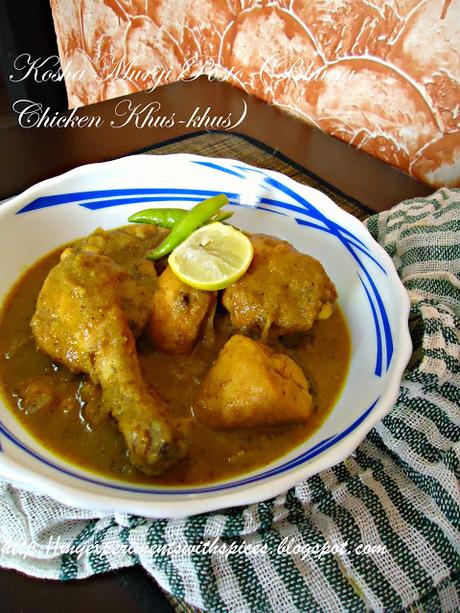 Step 4:
 
Add a cup of warm water and cover with a lid. Let the chicken get cooked on low to medium flame. When the gravy thickens turn off the flame and sprinkle lemon juice on the top. Give a few minutes of standing time before serving.