Lunch ideas: Chana Dal pakora curry (Chickpea fritters curry)
A very easy to cook recipe without onion and garlic. A simple and immensely tasty dish, goes best with steaming rice but can be surely tried with hot fulkas/parathas...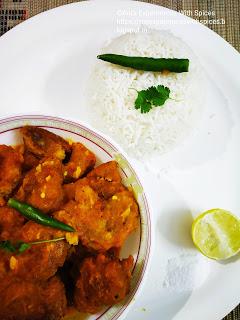 We are going through one of the darkest periods in history. Engulfed in fear and anxiety, passing days in lockdown because a virus has killed and infected over lakhs worldwide....a mortal combat to protect ourselves and others from these deadly microbes Corona. To take my mind off this grave situation and challenged by the constraints of going out and procuring whatever I wish, I have started with my experiments again with a handful of ingredients readily available in all kitchens
Recipe:
Ingredients:
1. Chana Dal 200 gms soaked for 7-8 hours
2. 1 big red tomato chopped
3. 4-5 green chillies
4. 1 tsp kaala jeera Or kalaungi
5. 1/2 tsp hing or asafoetida
6. 1/2 tsp turmeric powder/haldi
7. 2 tsp Kashmiri red chilli powder
8. Salt and sugar to taste
9. Mustard oil for cooking
10. A fistful of freshly chopped coriander leaves/dhania patta
11. A pinch of baking soda (optional)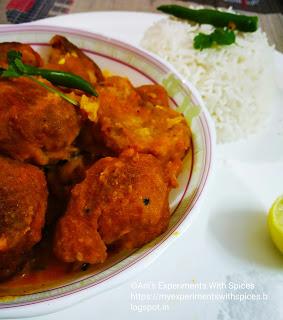 Procedure:
1. Make a smooth paste of the washed chickpeas adding a little water and 2 green chillies in the mixer grinder
2. The paste should not be too thin. To make it of thick consistency add some wheat flour to the paste.
3.Now add kalaungi, hing, salt, sugar and a pinch of baking soda to the paste. Whisk the mixture till it feels light.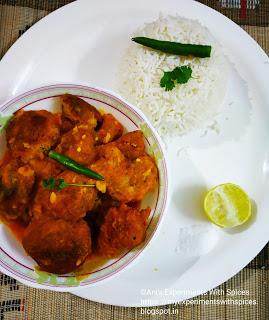 4 Heat oil in a thick wok and fry the paste putting it in small portions in the oil in slow heat. Fry both sides well and take out the fritters on a tissue.
5 When the whole paste is done then put in the chopped tomatoes green chillies, fry for a while till the tomatoes are done. Now add the powdered masala, salt. Take 500 ml water in the bowl containing the remnants of the paste. Add it to the wok. Give a stir and when the gravy comes to boil add the fritters.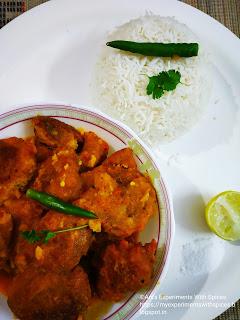 6. Keep on medium flame for two to three minutes and finish it off with freshly chopped coriander leaves and a drizzle of raw mustard oil.
7. Serve with hot steaming rice/ Fulka.