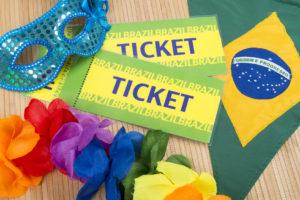 São Paulo has not always been synonymous with Carnaval. For decades, those seeking a traditional Carnaval experience went to Rio de Janeiro or Salvador. But for the last few years, that has changed. And this year, São Paulo showed its colors, playing host to the country's biggest annual party.
Rio's public funding woes have forced the city to cut back on the number of street parades, down from 698 in 2018 to a mere 498 in 2019. However, where Rio has flailed, São Paulo has picked up the slack. This year, the government issued permits for 556 parades, up from 491 last year.
Though São Paulo is winning the street parade war against Rio, it cannot truly beat cities like Salvador and Recife. Because of their relative size, the 615 parades in Salvador and the 580 parades in Recife are felt citywide.
Though 556 street parades may seem like a lot, considering São Paulo's size (14.71 million inhabitants compared to Rio's 6.32 million and Salvador's 2.67 million), those who wish to skip Carnaval need not flee the city. The most notable street parties this year included Acadêmicos do Baixo Augusta, Vai Quem Qué, Cordão Cecília and Bloco Esfarrapado.
While once considered a stuffy financial capital with the party scene limited to glam night clubs, São Paulo's investment in Carnaval has made it a real destination. When once people flocked to Rio or Salvador, now they are heading to São Paulo, so much so that hotels and retailers are reveling in the uptick in business.
Carnaval is now big business for São Paulo, with significant gains each year. In 2017, São Paulo earned R$314 million (US$82 million). In 2018, those numbers increased to R$550 million (US$143 million) and in 2019 they were up to R$880 million (US$230 million).
According to SP Turis, São Paulo's sambódromo do Anhembi (the Anhembi parade stadium) received 26.4 percent more tourists this year than last year. With tickets ranging from R$25 to a whopping R$30,000 for a private box, the sambódromo sales are an important factor in São Paulo's Carnaval gains.
With more money being invested in infrastructure and entertainment, São Paulo has become a true Carnaval destination.