Have you heard of Opera Parallèle? It is a young San Francisco company bringing high level performances of contemporary operas to the Bay Area (at great prices, nonetheless).
According to their website, Opera Parallèle is a professional, nonprofit organization that develops and performs contemporary chamber operas that are internationally acclaimed but rarely performed in the region.
In recent years, the company has expanded, even in a down-turned economy, receiving fabulous reviews such as this notice for their 2011 production of Philip Glass's Opera, Orphée. The San Francisco Chronicle had this to say about Opera Parallèle:
"a San Francisco company devoted to contemporary chamber opera, scored a full-on triumph over the weekend…ravishing and delicate, haunting and playful, somber and romantic, the production fused story, music and stagecraft into an engrossing evening of music theater."
Its upcoming double bill performance of Bernstein's Trouble in Tahiti (see trailer below) and Barber's A Hand of Bridge will be performed in San Francisco this weekend: April 26-28.
Here to introduce Operatoonity readers to the couple that runs the artistic direction of the company are Artistic Director Nicole Paiement and her husband, Concept Designer/Stage Director Brian Staufenbiel.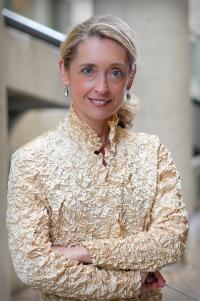 Artistic Director Nicole Paiement
Welcome to Operatoonity, Nicole and Brian! How intimate is your venue?  We generally perform at YBCA, which has approximately 700 seats. However, for our upcoming Bernstein/Barber production this weekend, we are excited to be at ZSpace, which only holds around 225. This will bring the audience that much closer to the stage and the performers. The intimate story of both "Trouble in Tahiti" and "A Hand of Bridge" make this the perfect venue.
What excites you about contemporary chamber opera?  The subject matters of most chamber opera will have more of an intimate and direct story line. I am a curious conductor who enjoys the challenges of mounting new works that are either rarely done or even have never been performed. I love the idea of bringing opera into the 21st century and helping redefine the form.
So many things excite us. First, because the orchestration is not as large, singers can sing with an even wider spectrum of colors, without worrying about being heard. You can truly hear pianissimo moments.
A smaller orchestra greatly widens the venue possibility – thus bringing opera to a variety of spaces and audiences to many more venues to see contemporary chamber opera.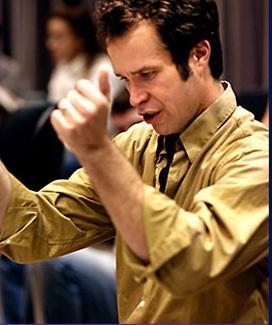 BRIAN STAUFENBIEL
Resident Stage Director, Production Designer
How did you two find each other and decide to found Opera Parallèle? (Okay, that might be two questions.)  I met Brian the first year I moved to California. He sang in some of my performances as a tenor. We quickly realized that we had a similar positive energy and artistic dreams.  I first founded Ensemble Parallèle – which was a broader organization. We focused on contemporary music and collaborative work.
After a few years, I realized that we needed to focus on one area and that contemporary opera was the most attractive form. It combines contemporary music with the narrative form, an important aspect in today's film and television society and also has endless collaborative possibilities with other art forms.
How do you decide what productions to present? How long is that process, and what does it entail?  We are constantly working on repertoire and have a five year plan that keeps being revised as needed. Repertoire is a key element to a successful company. As we look at scores, we think of many things. Certainly, the quality of the piece is crucial. We also try to diversify our musical selection to enlarge our audience base. This is why we will have ranged from Berg to Glass; Harbison to Golijov.
We think of collaborative possibilities in an opera. With the Golijov this year, we were able to collaborate with the SF Girl's chorus and Flamenco dancers including choreographer La Tania.
We consider the venue. Many works are venue specific.
We also try to balance between new works and masterworks. Wozzeck in the new chamber reorchestration brought back to life a great masterpiece of the 20th century. Same for Harbison (we commissioned that reorchestration). Golijov is a more recent work and our commission of Gesualdo, Prince of Madness, which will receive a workshop reading this June, brings new work in the repertoire.
We think of American versus works from other countries and try to present a variety of composers. Next year we will do a French opera and an English opera.
We try to bring "premieres" to the area, since SF is such a curious city. Once we identify works, we have some many things to consider before finalizing the choices. Cost is certainly an important one. Number of musicians needed in the pit since there are few venues with sizable pits.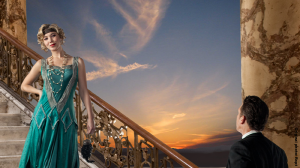 Opera Parallèle presented John Harbison's The Great Gatsby in 2012 | Photo by Rapt
What is the difference between contemporary opera and modern opera?  I think everyone has their own definition of this and I am not sure of the answer.  Contemporary comes from the latin root tempor – tempus, meaning something "of our time"–thus opera of "our time."
Modern can have the sense that it departs from a more traditional style. Not all contemporary operas are modern, if you think of it this way. There are "modern" operas that are not necessarily contemporary. Wozzeck is a good example.
For me, contemporary opera has a broader possibility of embracing a variety of styles.
Are those who worship classic opera disposed to appreciate the contemporary works produced by Opera Parallèle?  Definitely. Contemporary opera is in many ways a continuation of classic opera. It was not created in a vacuum. Our productions serve the music and the artform as a whole and I think any lover of the arts would enjoy our production.
How did you select "Trouble in Tahiti"? Does it exude the same kind of middle-class dysfunctional ennui as Revolutionary Road? There are definitely similarities between Yates' novel and Bernstein's opera. Both speak of the hopeless emptiness of their repetitive lifestyle in suburbia. However, in the opera, there is a feeling of redemption at the end that we certainly do not get in Yates' book.
We were looking for an opera that would balance our opera in February, Golijov's Ainadamar.  We wanted something American that would embrace a completely different style that would work well at Z Space.
How did you discover "A Hand of Bridge"? What made you pair it with "Trouble in Tahiti"?  In Barber's opera, two couples play a hand of bridge, during which each character has a short aria in which he or she expresses their dissatisfaction with life. They are obviously also not happily married. We have cast one of the couple as being Dinah and Sam of "Trouble in Tahiti." So in this way, Barber's opera becomes the prologue to a Hand of Bridge – and the epilogue since we will repeat it in the lobby at the end of the evening. The 10 minute opera is brilliantly composed on a libretto by Menotti.  All these wonderful artists from the mid-1950′s come together in one program.
You can definitely hear that the work is a precursor to "West Side Story"? What is it about the score that creates that aha moment with the more familiar work?  When Dinah sings her first aria – "I was standing in a garden," we hear the great lyricism that Bernstein will later write in West Side Story.  The "train" music when Sam leaves the house to get to his office,  we recognize the great syncopated rhythmic style of Bernstein – so unique and powerful.
As promised, here is the promo video for "Trouble in Tahiti":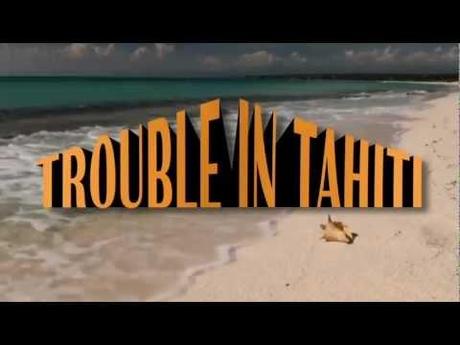 * * *
Stay In Touch with Opera Parallèle!