With the weather turning cooler, the Singapore Women's Group in Dubai organized a picnic at Al Safa Park on Sunday. It was potluck brunch so we each brought some food for the picnic.
Initially I wanted to bake an earl gray tea cake but there was already quite a number of dessert items on the list. Then I thought I'll bring some sesame oil chicken but there were lots of chicken dishes on the list too. So I decided to bring sambal chilli and some crab cakes, to complement the other dishes.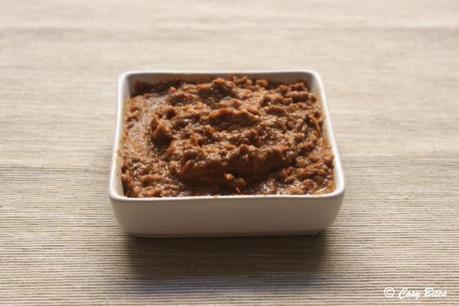 The sambal chilli turned out to be such a hit with the ladies. Some of them asked me for recipe and one took the leftover sambal chilli home.

Here's the sambal chilli recipe, which basically uses my last sambal chilli recipe as base and builds on with extra fried ikan bilis for texture and lime juice for taste.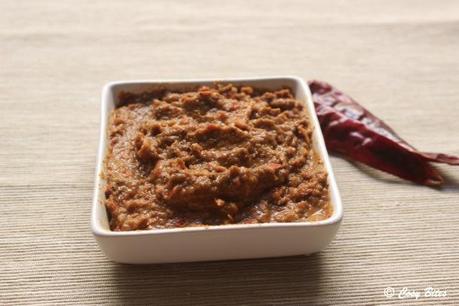 SAMBAL CHILLI
Ingredients:
40 gram dried red chilli

100 gram onion

25 gram garlic

5 tablespoon cooking oil

110 gram ikan bilis (anchovy)

30 gram sugar (to taste)

Salt (to taste)

250 ml water

Juice of half a lime
Method:
Rinse ikan bilis with water and allow to dry completely.

Deep fry 30 gram of the ikan bilis over medium heat until crispy. This will only take a couple of minutes. Set aside.

Place dried ikan bilis in a food processor and grind into fine powder.

With a pair of scissors, cut the dried chilli halfway to remove most of the seeds. Soak dried chilli in water to soften, then drain the water.

Blend dried chilli, onion and garlic to form a smooth paste.


To a heated wok, add cooking oil and stir-fry the ground ikan bilis for about 2 minutes till fragrant.

Add the ground chilli paste, salt and sugar and stir-fry over low heat for 10 minutes, adding water as you fry to avoid burning the paste.

Stir in fried ikan bilis and lime juice. 

The resulting sambal chilli should be moist and pasty.