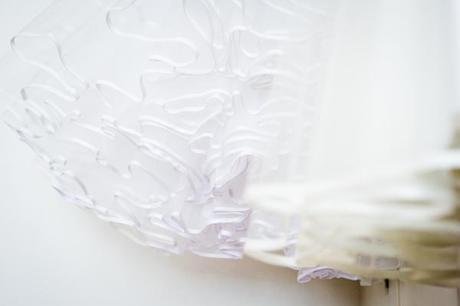 I love the story – in pictures and in Sam's own words – of this wedding for two things. First it's just beautiful to look at, one of those where my heart leaped into my mouth when I first saw the images! Second… Sam and Kev did things their own way and created a relaxed celebration, a fun party and a great day for their friends and family. Sam wrote a great wedding report so I'll hand over to her to tell you all about the wedding day.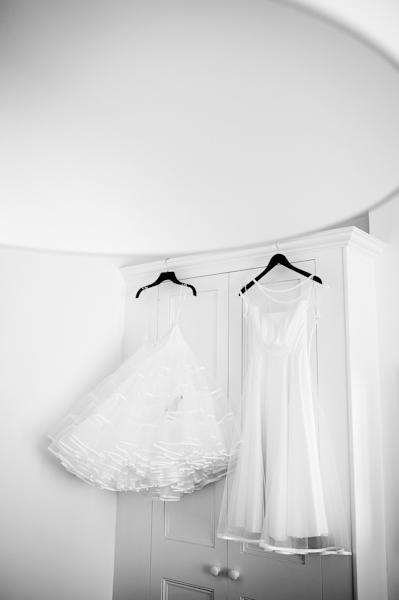 Bride Sam writes,
"Our first thought was that we wanted to get married without the traditional things like the wedding breakfast, table plans, cake cutting and speeches. We wanted a casual (but smart) ceremony and a big party! We chose Chelsea Registry Office because we always spend a lot of weekends up there, we like to shop in the area and because it is a very lovely venue! We then had a look at some venues for the reception and kept changing our minds about how many people we wanted, so again we went with
Beauberry House
because it is a beautiful venue and we spend a lot of our time in Dulwich, especially the park with the kids.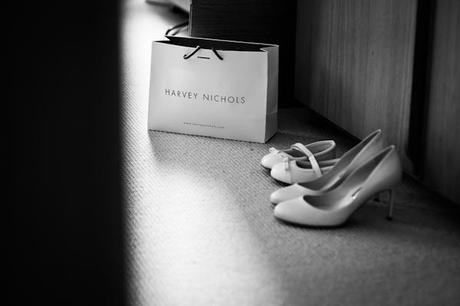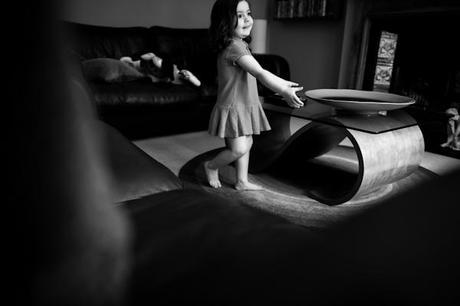 "I always knew the type of dress I wanted, I loved the 50's style prom dress and
Candy Anthony
was the obvious choice, I also got the 2 bridesmaids dresses and the flower girl dress from there. I wanted things to be easy, so I chose pink, white and black as a rough colour scheme, so we had pink roses for the flowers and pink bits and pieces, like ribbon around the invites, balloons, cakes etc.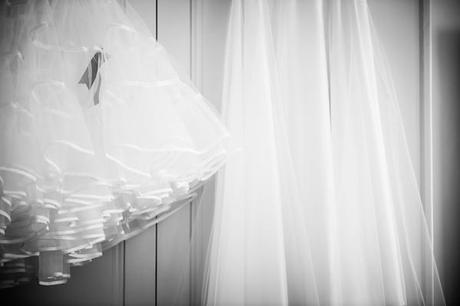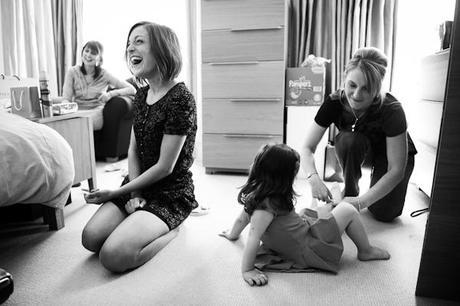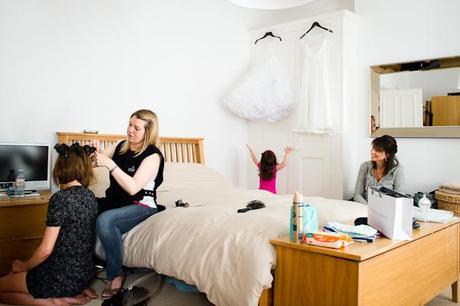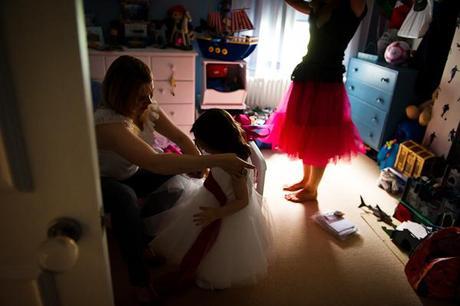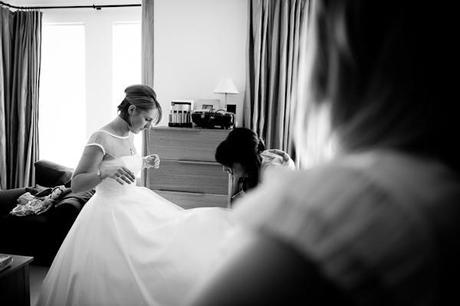 The wedding dress: oh wow. How gorgeous is this Candy Anthony number? The 50's prom dress in ivory with a cap sleeved tulle overlay suits Sam down to the ground (or down to the just-below-the-knee!) Even more than with a traditional wedding dress, I imagine the second you wear one of these you must feel the wedding day magic begin! And who could resist the temptation to swish it around a few times with all the excitement?! Not me!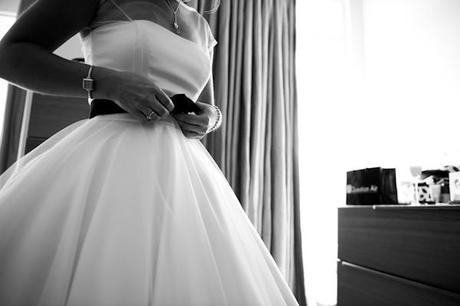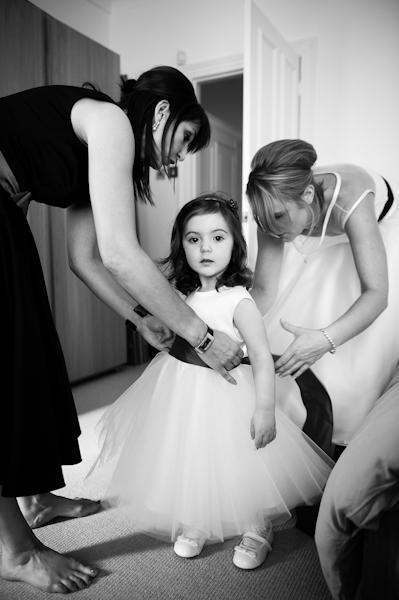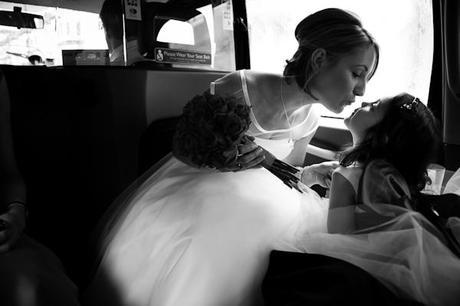 "We had about 150 guests, so we decided to have the ceremony at Chelsea with 40 family and friends, we got them up to Chelsea by an old route master and we all came back to Dulwich in it (with the champagne flowing), which was so much fun."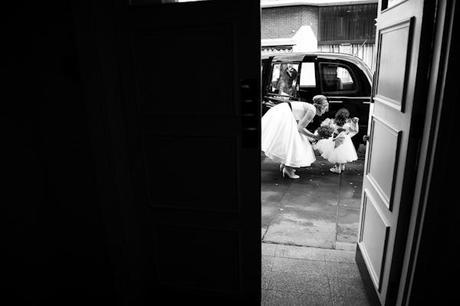 Kev entertains the guests at Chelsea registry office before the wedding ceremony. He wears the very best in groomswear: gorgeous bespoke tailoring by Spencer Hart, Savile Row.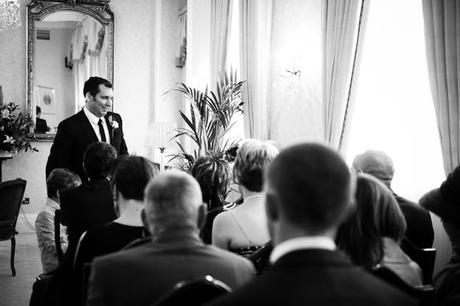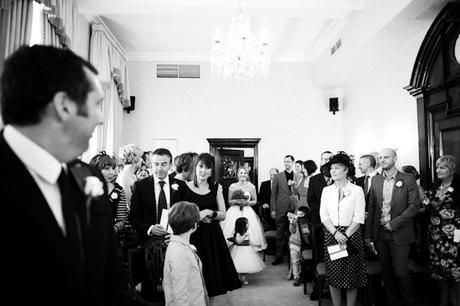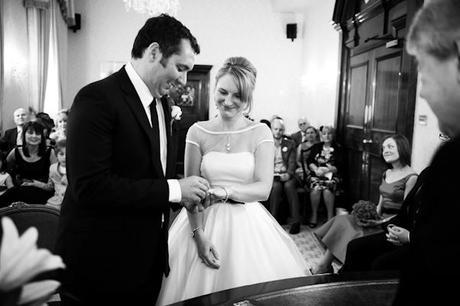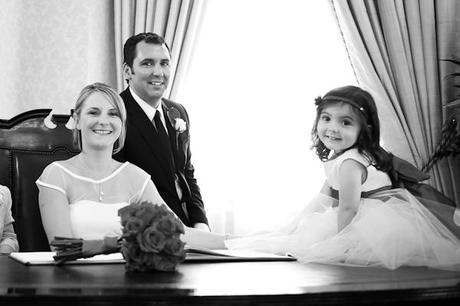 "Then we had the rest of the people arrive about half an hour after we got back and had a summer bbq for everyone (the food was amazing!) and then decided on the day to have a couple of traditional things, so the best man did a short speech, we cut the cake and we had a family first dance."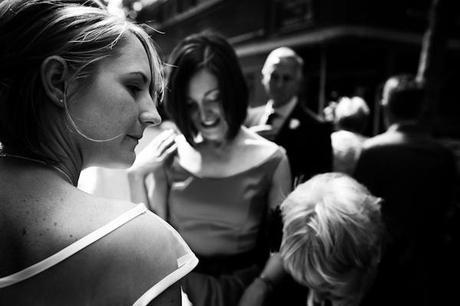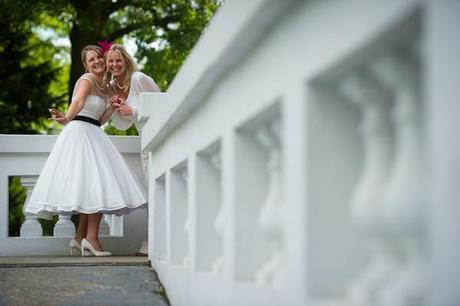 Sam's shoes are from fabulous luxury shoe designer Rupert Sanderson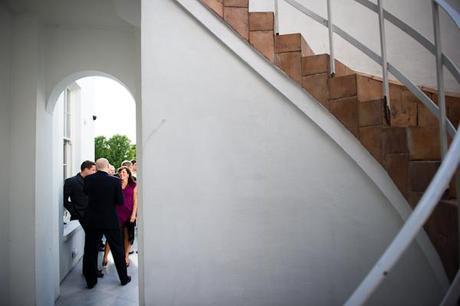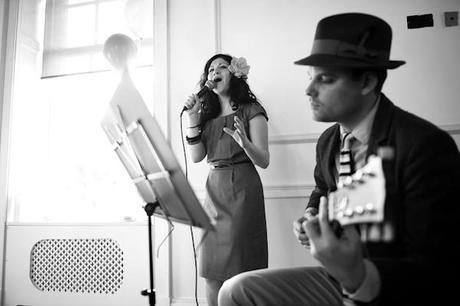 "Then we had a great party, with excellent music by our DJ Max from the wedding smashers, we also had a singer earlier on while people were arriving and she was very cool, lovely chilled music.
"Everyone said they had a great time, we had a great time, and we just wanted to have fun, so we spent most of the time on the dance floor and mingling with all our guests.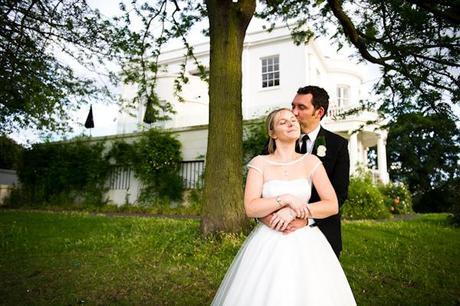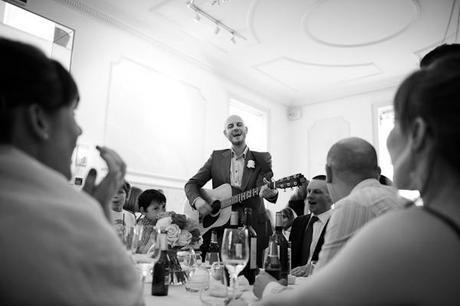 "I made up party bags for the 10 children we had there and left out a few games, books and colouring bits for them too, we also gave out Molton Brown mini shower gels as favours, which looked great but probably were the only thing that I wouldn't do again because not everyone took one home. I think the wedding magazines go on about favours, so you feel that you should give them but I don't think anyone is really that bothered, spend your money on a free bar instead!"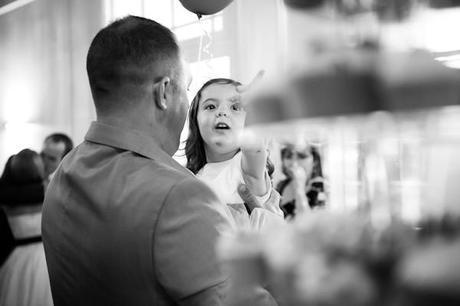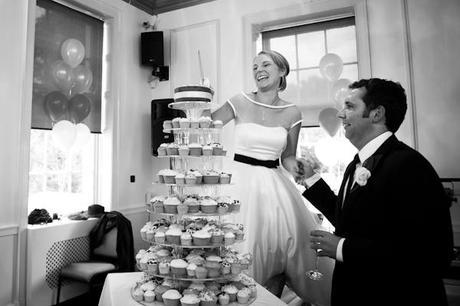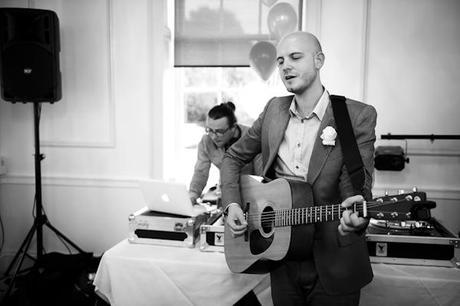 Memorable wedding day moments
"Being so relaxed from start to finish, I was nervous before hand, thinking about what could go wrong but nothing did and I would love to do it all again. We just had a great time drinking and dancing!
"And the events manager at Beauberry House, Oleia was wonderful from our first meeting and made our wedding so easy for us, she did most of the hard work and even sat us down to have something to eat on the day."
Advice for English Wedding brides
"Keep it simple, do what you want to do, that way you will always enjoy your special day!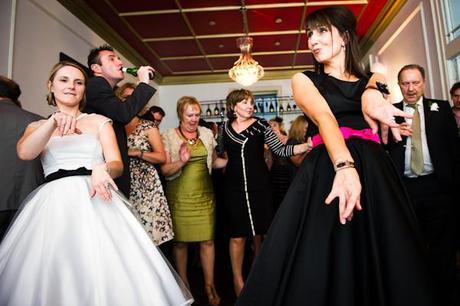 "We chose
Mark Carey as our photographer
because he does reportage style photos, we didn't want to spend a lot of time posing for photos and he was perfect for us and did a fantastic job."
Reportage wedding photographer Mark Carey is a wedding photojournalist serving clients in London, the UK and destination weddings.
Sam and Kev's recommended wedding suppliers
Venue – Beauberry House (the best wedding venue ever and the best events manager, Oleia Leclercq)
Singer – Sound Generation (Louise Golbey)
DJ – Wedding Smashers
Reportage wedding photography by Mark Carey
Flowers – Limeginger
Transport – (Route Master) Traditional Travel
Cake – (cupcakes) Crumbs and Doilies
Stationery – Twenty-seven.co.uk
Huge thanks to Sam and Kev for the questionnaire – congratulations to you both and thank you so much for sharing.
Thanks to reportage wedding photographer Mark Carey. Find out more on Mark's official website at www.markcareyphotography.com