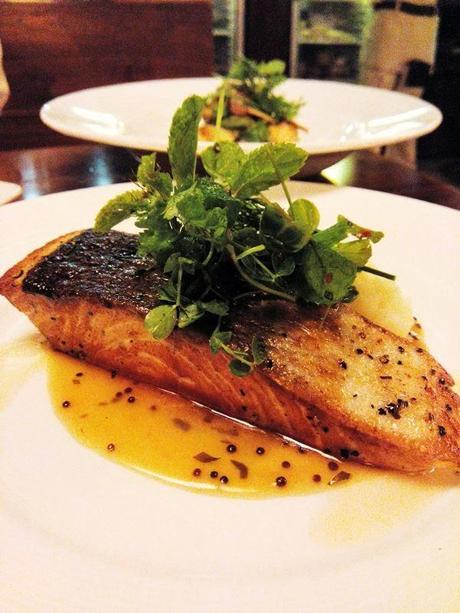 Pan seared salmon with kairi sauce
Having done and dealt with food and beverage industry all of my working life, I know how diners step out to be enthralled by a supreme culinary experience every single time. It's almost like waiting for a food orgasm and most often than not its turns out be just – ordinary. While ordinary may sound boring to some, for me ordinary connotes "normal". And how much we crave normalcy in our roller coaster lives is unexplainable.
And therefore, the first word that came to my mind entering the Saltwater Cafe at churchgate was – ordinary. Everything about the place – decor, color scheme, layout, and bar situated at the end corner of the restaurant. All seemed ordinary. I met the service team and they were pleasant enough, the food that came out was just about good enough.
Although I kept waiting for that one moment that will elevate all of the ordinariness and good-enough to a fantastic level and that never came - I felt comforted with the ordinariness!!!
I was invited to review the new summer menu launched recently which comprises of few dishes incorporated in the regular menu. TIP – Introducing the new additions as a separate leaf in the menu enables the customers to order from it directly. The summer menu is heavily leaning towards vegetarianism. Consisting of light and healthy salads and appetisers - braised beets & plums, charred cauliflower and pea-pesto gnocchi – all represent beautiful and delicate summer flavours.
For the main course, pan seared salmon is an absolute MUST TRY while laal math beet roulade must be avoided. It is a mish-mash of flavours that doesn't sit well together. The miso flavoured baked paneer was neither here nor there.
If its the final lap of comfort food you are looking for in the desserts, try your hand at flourless chocolate fudge slice – it is probably the best thing in the menu. Baked apple pie with lavender is yet again average.
My take on this place – Go here when you are tired of too much excitement and too much problems. Apart from highs and the lows – normal is good – normal is safe – normal is comforting and so is this place.
Rating – 3/5
| | | |
| --- | --- | --- |
| Backed apple pie with lavender | flourless fudge cake | laal meth with beet and tomato |
| | | |
| --- | --- | --- |
| pan seared salmon with kairi sauce | pan seared salmon with kairi sauce | paneer backed with miso and pokchoy |
| | | |
| --- | --- | --- |
| potato ricotta with pea pesto gnochi | poha crusted prawns with lemongrass aiole | braised beets and brie salad |