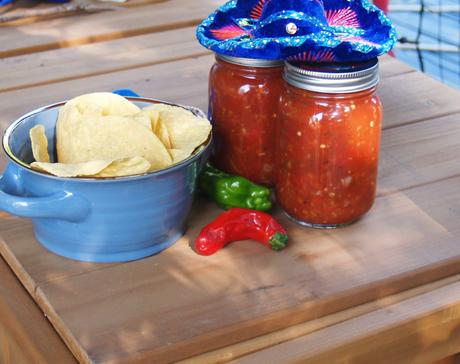 What are you doing this fine Sunday? I am making more of the Chow Chow I made a few weeks ago and my daughter asked me to make a salsa recipe for canning. Something I have not done in several years. I had everything I needed having gone to the Farmer's Market yesterday and getting all the tomatoes one farmer had to offer! It has been a tough year for tomatoes this year given our late freeze and then extremely hot and wet summer. There were not enough for a nice tomato sandwich but small ones could be made into salad and salsa. They smelled and tasted so good I was happy to make it. Isn't it pretty?
Ingredients:
Fresh Salsa to Can Recipe
6 pounds of chopped tomatoes that have been cored but not peeled unless there is a bad spot.
5 Jalapenos finely chopped
3 Cups of chopped onions
10 cloves minced garlic
3 Bell peppers of various colors finely chopped
1 bunch chopped fresh parsley
Juice of 2 lemons
½ Cup white vinegar
2 teaspoons cumin
2 Tablespoons salt
1 teaspoon cayenne pepper (optional)
2 six-ounce cans of tomato paste
1 small can of tomato sauce
Up to ¼ cup sugar if you like a sweeter salsa - we do not use it.
Directions:
Combine everything into a large stock pot and bring to a simmer - simmering for 15 minutes.
Ladle into hot sterilized pint jars, leaving ¼ inch at top, put on flat tops and screw lids tightly.
Heat up water to boiling in deep stock pot or canning water bath pot.
Place in stock pot 3 at a time (do not overcrowd) and water bath for 15 minutes.
Take out and allow to cool in a draft free place.
Make sure lids are sealed. If so, keep in pantry that is not too hot, for up to a year.
Refrigerate after opening.
I hope you enjoy this recipe - it is very delicious!