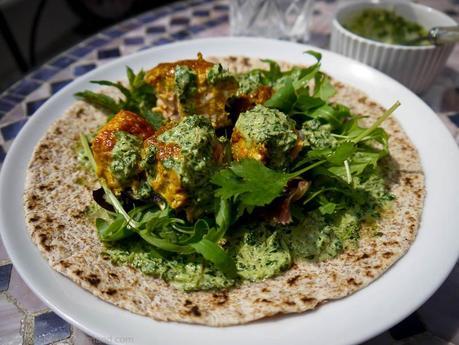 Salmon Tikka Chapati with Mint and Coriander Raita
Ever tasted something in a restaurant that alerts all your senses at once and makes you crave for more? You are left with a mild niggling feeling at the back of your mind and you cannot wait until you can finally recreate the taste back home in the privacy of your own kitchen.  It happened to me very recently when I was invited by Zoe (aka The Spice Scribe) to participate in the wonderful #IndianSummer event which was being hosted by the very gracious Jay and Uttam over at Potli restaurant near Chiswick, West London.
Potli restaurant captivates a variety of Indian street food in an unpretentious way and has to date attracted very positive reviews . The event was to mark the launch of their Summer menu and although the invitation denoted "Cocktails and Canapés", it turned out to be so much more. On a balmy Summer's evening  the welcome showstoppers included: Basil and Tamarind Martini Cocktails served with spicy pakora style cashew nuts, Drums of Heaven (lollipop style drumsticks of intensely spiced chicken), Chilli Paneer recalling an Indo-Chinese influence, Lamb Biriyani served with the crispiest and most fragrant Coriander and Garlic Nan bread. For further information on the dishes served and for fuller review articles, refer to accounts by London Unattached and The Hedonist.
So what had captured my imagination? It was the Mint and Coriander Raita. This refreshing and zingy dip had been accompanied by mini vegetable pakora at the start of the evening. Now, I just had to find the perfect excuse for making it. I have to admit, my consistency does not quite match Potli's but it is powerful in the flavor ratings and is the perfect dressing to cool down during the heatwave! I thought it might work well served with some warm chapati bread, salmon tikka and some salad. The recipe is fairly healthy and makes for a good alternative to a salad wrap for lunch.
I followed Vineet Bhatia's recipe for Chicken Tikka Marinade over on Great British Chefs website. I like the idea of the double marinade, initially you use lemon juice, garlic and ginger then the spice marinade follows. I left it for 24 hours for it to work its magic. When ready, place the salmon in a pre-heated oven at 180°C and roast for 8 minutes or until you see a deep orange-brown color develop. My salmon fillet weighed 120g.
Just before cooking the salmon, I made the Mint and Coriander Raita.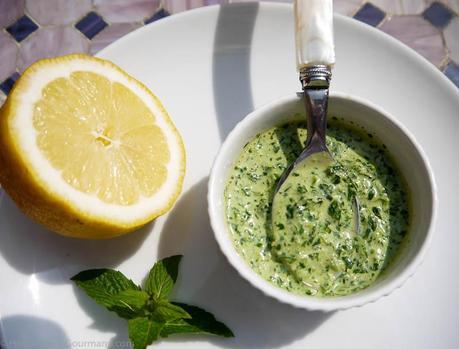 Mint and Coriander Raita
Print Mint and Coriander Raita
Yield: Makes 250ml
This yoghurt based dressing is healthy, refreshing with a zingy taste. It is perfect for serving with chicken or fish.
Ingredients
150 ml of natural plain yoghurt
20g of Coriander (with stem) chopped
10g of Mint leaves, chopped
1 green chilli (remove seeds if required)
2 garlic cloves crushed
1 tsp of cumin
Juice of 1/2 lemon
sea salt
Instructions
In a blender put together the coriander, mint, green chilli, garlic, cumin and lemon juice until a puree-like consistency has been achieved. Add the yogurt and blend further until smooth. Add salt to season.
Notes
For a thinner consistency, reduce the quantity of coriander and mint.
Schema/Recipe SEO Data Markup by ZipList Recipe Plugin2.2http://howtobeagourmand.com/salmon-tikka-chapati-with-mint-and-coriander-raita/Unless otherwise stated, text and photographs © 2011 How to be Gourmand. All Rights Reserved. Kindly request permission from the author to copy or reproduce elements of this blog.
Warm up your chapati in a dry frying pan for couple of minutes spraying a little water on it to ensure it doesn't dry out. Set it on a plate and serve a couple of spoonfuls of the raita and spread over the chapati. Add some salad leaves, chopped red onion, cut up the salmon into sizeable chunks and place on the salad and top again with more raita. Garnish with a sprig of mint and coriander and you are ready to eat!
My thanks to Zoe for the invitation and to Potli for the inspiration, I'll be making this again!
What dishes have you eaten in restaurants that have inspired you? I'd love to hear about them in the comments below!
Like How to be a Gourmand on Facebook
I'm entering this into the Karen's Cooking with Herbs Challenge over at Lavender and Lovage