<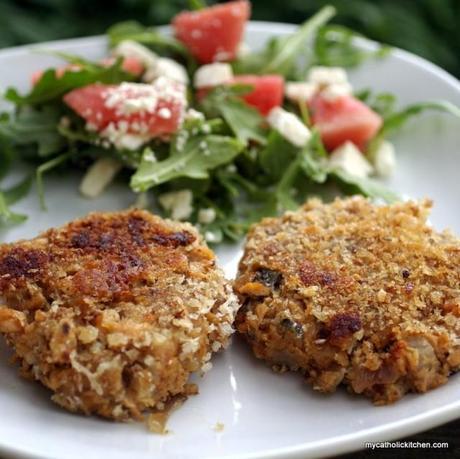 The first Friday of every month I blog about Ina Garten, The Barefoot Contessa.  I do this with a great group of blogger friends who also love Ina and her cooking. If you scroll down after the recipe you will see a list of all of them.
Last month was Soup Salad and Sides. I did not participate because I was busy getting ready for Brunchweek. So I made and photographed Arugula, watermelon and feta salad. Dummy me thought that this month was Soup Salads and Sides.
To make a long story short, I scrambled and managed to make these Salmon Cakes with stuff I had in the pantry.
I got the pictures done in the nick of time too. It was starting to get dark and to be honest, I thought It would not work.
So I will save the photos and post of the arugula salad for the next Soup Salad and Sides on InaFriday. If you look close you can get a sneak peek of it. I also plated a bit of it on the back end of the Salmon Cakes.
For right now, I made this yummy summer main dish with Salmon.
I hope you enjoy this as much as my family did.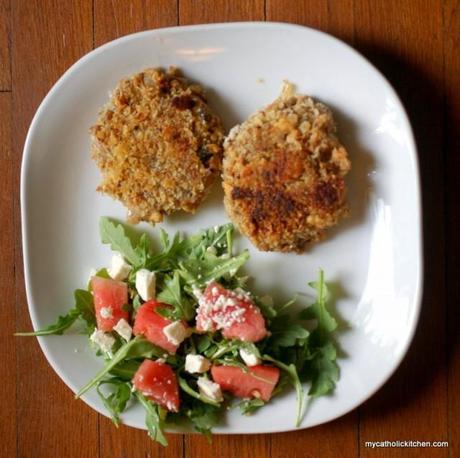 Print Recipe
Salmon Cakes
Ingredients:
4 tablespoons olive oil
4 tablespoons unsalted butter
3/4 cup red onion minced
1 1/2 cups minced celery
1/2 cup minced red pepper
1/2 cup minced yellow pepper
1/4 cup flat leaf parsley
1 tablespoon capers
1/4 teaspoon hot sauce
1/2 teaspoon Worcestershire sauce
1 1/2 teaspoon old bay seasoning
3 slices stale bread
1/2 pound cook Salmon
1/2 cup mayonnaise
2 teaspoons Dijon mustard
2 eggs
1/2 teaspoon Salt
1/2 teaspoon black Pepper
Directions:
Over medium heat in a large skillet melt 2 tablespoons butter and 2 tablespoons olive oil. Add onion, celery, red and yellow pepper in the pan and saute for 5 minutes. Add parsley, capers, hot sauce, Worcestershire sauce and crab boil. Set aside to cool.
Break the bread crumbs and process in a food processor until in small pieces. Toast in a 350 degree oven for 5 minutes.
Flake the Salmon in a bowl and add the bread crumbs and mayo. Add the mustard eggs salt and pepper.
Add the vegetable mixture and combine. Chill in the fridge for 1/2 hour. Shape into 10 patties.
Use the 2 tablespoons butter and 2 tablespoon olive oil in a large skillet and cook the patties in batches, frying 3- 4 minutes per side.
Serve hot.
Stop in and see what all of our  writers are cooking up.  All writers will not participate every month, but check out the blogs anyway.  If you'd like to participate on a monthly basis, email my friend Alyce Morgan at [email protected]yahoo.com.   
Peace be with you,
Veronica