I bought these Sally Hansen Salon Effects Nail strips a while ago now, but every time I went to use them, my nails broke or went really horrible and I didn't want to waste them, so I waited. Finally used them last weekend and I am impressed. Not majorly - WOW over them but I like them.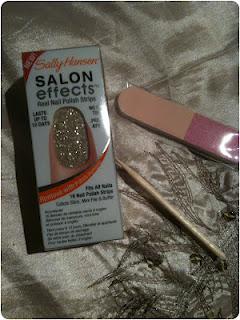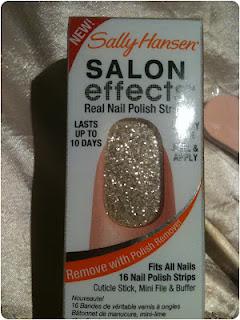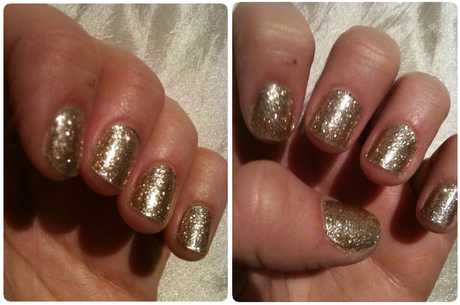 I picked up the sparkly gold ones as they were on a special price in Asda at about £4.00 when they are usually about £7.99. 
After reading the simple step by step guide numerous times, I finally managed to get my tiny brain around the instructions. It really is simple, just peel off the plastic side, peel off the strip, place on the nail, mold it around you nail and then file off the excess. I first thought "no way that's never going to stick!" as bits kept flapping about, but after leaving them alone for about an hour, they were fine. They really did stick on well.
How long did they last I hear you asking...well mine lasted about 4 days. Not bad, but not great either. I thought they lasted longer. I read somewhere they are supposed to last over a week? Or am I making that up....? 
However, I did get my DIY brain on and put together a big bookcase all by myself without chipping a single nail! I was rather impressed then. I also got a lot of compliments about them too!
Onto the price. I think the price of these are ridiculous. £7.99

approx

 
to me is a little crazy. Apart from really
really
wanting to try the lace effect ones, I don't think I will actually buy these unless they are on a special deal or a saving. 
Have you tried the 
Sally Hansen Salon Effects Nail strips? What do you think of them?