Hey Dolls!!
So today's NOTD is also going to be a review on Sally Hansen's HD Hi- Definition line since this is the first time I've ever used it. I know this line came out sometime this past spring so I'm surprised that I haven't used it yet. The color Laser, is  a pretty medium to dark blue with flashes of pink and purple shimmer. It stuck out like a sore thumb at the store.It looks so amazing in the bottle, hopefully you can see the stripe of purple showing in this pic.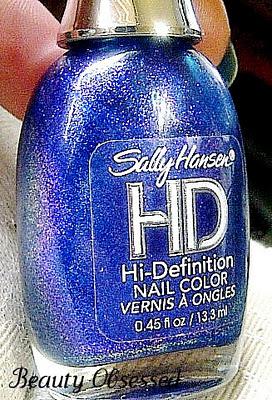 The formula was nice but way too thin in my opinion, I was hoping for more of an opaque look. I was able to achieve it somewhat by applying 3 coats. I hardly ever apply 3 coats so that was a lot for me and I think I would have been more pleased with 4 coats. They have such a nice chrome look in the bottles but that's not exactly how it transfered onto my nails.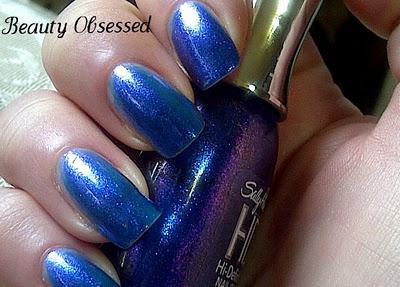 I don't hate the color but I don't love it either, one thing I'm happy about is that I can see the different pink and purple shimmers when I look down at my nails depending on what type of lighting I'm in. I also like the light glittery effect that shines off the color. So its not a total fail, I was just expecting something different . It's a shame because they have some other really pretty colors  from this line but I probably wouldn't purchase another one knowing  the kinda of formula it is. 
I wanted to add something to this mani so I used Wet n Wild's Party of Five from their fast dry collection on a few nails.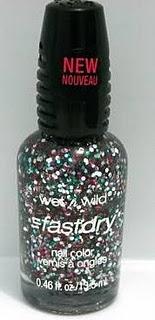 This glitter was super hard to photograph, Its a mixture of baby blue, turquoise, green, red, hot pink, and silver. The pieces are different sizes and it looks like confetti on my nails.  I think this would have turned out a lot better on a lighter color. There's something about this color blue and the mixture of glitter colors that didn't let the glitter stand out as much as it could have. But I can totally see it looking great on a baby blue or baby pink, or even white.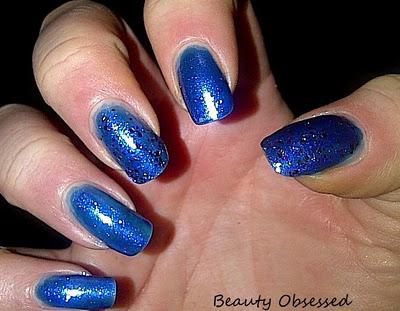 MY INDEX FINGER HAS ONE COAT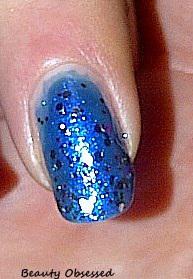 THIS IS TWO COATS
I know its hard with this picture being so out of focus but I wanted to give you some kind of idea what Party of Five looked like. I consider it more of a top coat than a stand alone polish. You probably cant tell from this crappy picture but the glitter is more spaced out and not very densely packed. I really like it  though and  cant wait to try it over different colors. I think its a must have for any glitter lovers! 
It also does dry very fast, I almost forgot that it was a fast drying color and even with two coats you don't have to worry about that gritty feeling. The glitter isn't that dense, but I still used a top coat of course.
Overall, I wouldn't say this mani was horrible, I do like this color, just not by itself. I was just thinking though and I bet this would be a great color for layering; over black would probably look cool.  As far as the Wet n Wild PO5, I love all the different colors it has and cant wait to use it again. 


Product Rating for both products combined:  4 out of 5 nail polishes! I gave it a 4 because of the Wet n Wild glitter, if its wasn't for that It would have been a 3.
Click the links below :) Follow my blog via GFC Follow me on Twitter