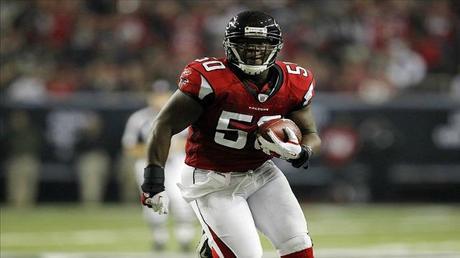 Photo: Josh D. Weiss/US Presswire
- Adam Parker
The 2012 NFL Free Agency frenzy continues to roll along, and the latest marquee signing (or at least one of the more recognizable names) is one many NFC South fans will know.
Former Atlanta Falcons linebacker Curtis Lofton is set to join the division rival New Orleans Saints after agreeing to a five-year contract.
Lofton, who was an un-restricted free agent, started all 16 games at middle linebacker for the Falcons last season. Jonathan Vilma is the Saints' current option to anchor the middle and defensive captain, but Lofton also has the ability to play other linebacker spots.
"Curtis is a versatile, hard-working player that has displayed a knack for being around the football, and more importantly, making plays on the ball,"
Saints general manager Mickey Loomis said in a statement released Saturday night.
"He has the ability to play all three linebacker positions and we feel that he's just entering the prime of his career. We think he can come to New Orleans and fit in well and provide us with a significant contribution to our defense."
Lofton started all but one game his rookie season, working mainly in the team's base package, and he's been an every-down player the past three years.
The 25-year-old middle linebacker led the Falcons in tackles last season with 147. He also had a career-best two interceptions, returning one for a touchdown.
The 6-foot, 241-pound Lofton was a second-round draft choice by the Falcons in 2008 and has started 63 of 64 games. In four seasons, Lofton has posted four sacks, three interceptions, seven forced fumbles, one fumble recovery and 15 passes defended.
The former Oklahoma Sooner standout should prove to be a big addition to New Orleans, especially amid the latest controversy surrounding the 'bountygate' scandal.
The Saints were recently punished by the NFL for a bounty system, and Vilma's name (along with 20+ others) appeared in the report by the league. Commissioner Roger Goodell has said he will deal with player punishment at a later date.
The inking of Lofton to a long-term deal proves that the Saints are prepared for whatever punishment Goodell deems necessary. With the information that's been released to the public on this matter so far, it seems likely, at least to me, that Goodell will probably look to make an example of Vilma, since his is easily the most recognizable name to come to light thus far.
Is a suspension in order? What about lightening up the pocketbook with a sizable fine? My guess -- both.
This bounty system is a serious black eye on the NFL, especially under Goodell, who has publicly championed player safety. I personally expect Goodell to make Vilma the poster boy for this, just as he did with Steelers linebacker James Harrison for violent hits, and rightfully so.
But enough about that. The Saints have to move forward, and will probably be without Vilma for a substantial amount of time this season. Lofton is a complete stud and tackling machine and when coupled with new defensive coordinator Steve Spagnuolo, will likely become a perennial Pro Bowl talent. And once Lofton and Vilma are able to team up, the Saints' defense will no doubt be marching over opponents again.
Be sure to follow Beard And Stache on Twitter 
@BeardAndStache
, 
and also Adam 
@Adam_Parker43
, Like our Facebook page 
HERE
!